Refresh for the MacBook Pro Line
---
"Last weekend, Apple oversaw a relatively successful launch of its new iPad tablet. On Thursday, the company made waves with a much publicized unveiling of iPhone OS 4.0. And today Apple has even more big news: The company is releasing updates to its Macbook Pro line. The 13-, 15-, and 17-inch versions of the laptop have all been upgraded."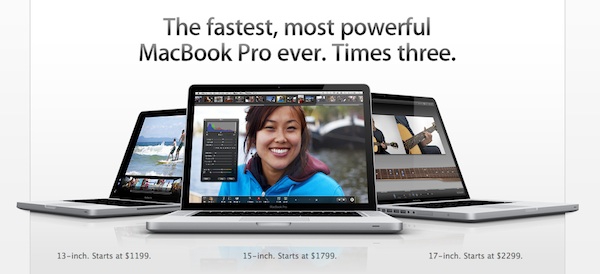 On the heels of the iPad comes a refresh for the MacBook Pro lineup, with upgrades for each version. The 13-inch model gets a bigger hard drive as well as a boost in speed, and a battery life approaching 10 hours from some other reports that I've read. The Intel Core i5 and i7 processors found their way into the 15 and 17 inch versions, as well as a 256-MB Nvidia GeForce GT 330M graphics chip. All the versions come standard now with 4GB of RAM and bigger hard drives. I'm liking the increased battery life of the 13-inch model, but what is more important to you, more battery life or faster speeds? What are your thoughts on the update?
__________________
iPhone 4, 1.6 GHz Core 2 Duo MacBook Air, Apple TV, 2.66GHz Intel C2D Mac Mini, 1TB TC, Airport Extreme,several iPods and an iPad, 32GB Wi-Fi version.
Follow me
on Twitter.