Apple Comes in Fourth
---
"Apple is fairly reliable, but not the most reliable company of all when it comes to notebooks, according to a new study by research firm SquareTrade. The top honor goes to Asus, which surprised me, but I suppose shouldn't have when I consider the build quality of my fairly inexpensive Eee PC. Toshiba and Sony rank next most reliable, with Apple coming in a close fourth."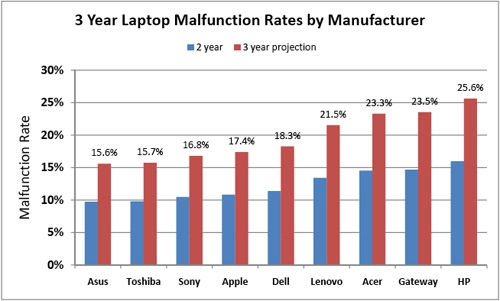 Netbooks suffer higher failure rates than regular or "premium" laptops however, failing 25.1%, 20.6% and 18.1% respectively over a three year period (the one year figures follow same pattern). They also note that overall, during a three year period, laptops in general will fail roughly 30% of the time because they are portable thus subject to more abuse either intentional or accidental.
__________________
iPhone 4, 1.6 GHz Core 2 Duo MacBook Air, Apple TV, 2.66GHz Intel C2D Mac Mini, 1TB TC, Airport Extreme,several iPods and an iPad, 32GB Wi-Fi version.
Follow me
on Twitter.