CNet Hands-On With Zune HD Browser
---
"Last Tuesday, I shared my positive impressions of the mobile Web browser Microsoft is including in its upcoming Zune HD portable media player. What I didn't share (not because I didn't want to) were the photos I took of the Zune HD browser in action. The following photo gallery includes four shots of the Zune HD browser doing its thing. The first shot shows the browser in portrait mode, the second shot shows how bookmarking is handled, the third shot shows Facebook in landscape view, and the final shot demonstrates the keyboard in landscape mode."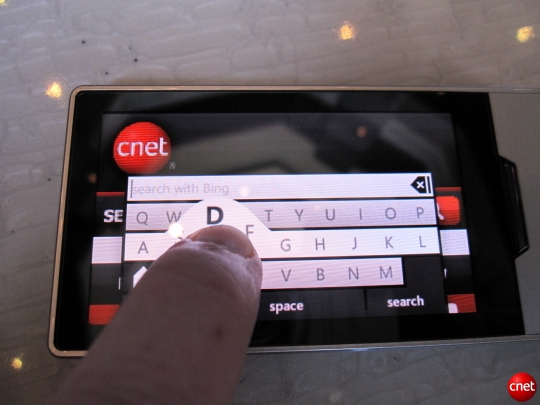 CNet's Donald Bell got some hands-on time with the device last week and was impressed by the quality of the music and (surprisingly) browser experiences. Microsoft's NDA prevented him from sharing pictures of some of the more interesting parts of the device, but apparently one of those restrictions has lifted. There are some cool shots of the browser doing its thing, but nothing particularly mind-blowing (they're pictures, after all...).
One cool thing is the emphasis on usability while typing on the on-screen keyboard. The selected key appears to be able to "grow" around your finger (see above), like a cross between the iPhone's keyboard loupe and Palm's WebOS wave application launcher. Bonus shot here. And of course, the default search engine is Bing. I really want to see how fast it runs and how the awesome power of Tegra helps out with some of the more processor-intensive operations. The Zune Press train keeps on rollin'!