Alarm Master Sleys Elusive Enemy ForgetAllAboutis!
---
"Alarm Master is a convenient and powerful utility that helps managing personal alarms and reminder on your Windows Mobile Classic/Professional device. If you need a reminder solution for a variety of purposes from daily alarm-clock to parents' calls and monthly bills, this flexible tool is an ideal solution for you."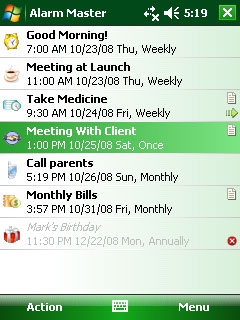 So indulge me for a moment and pretend there is a mythical monster named ForgetAllAboutis, and further suppose that he/she/it likes to make you forget about various things you should do (e.g. call people you don't particularly like, clean out pesky facebook friend requests from ex-girlfriends, or in my case, pay your quarterly taxes). Now imagine that some wonderful program existed that kept alarms apart from Windows Mobile's calendar, included a today-screen plugin, and generally was customizable as one could wish. Now further believe that it has a trial version available and the full thing costs about 2 1/2 fancy coffees (e.g. around $13). If your (my) dream became reality, you'd have this new release from Connective Tools.
__________________
Dr. Jon Westfall
, MCSE, MS-MVP
Executive Editor - Android Thoughts
News Editor - Windows Phone Thoughts