The Best "Zune Doom" Headlines I've Seen
---
We all know about the crazy Zune 30 failures going on now, and I've been watching as the headlines come zipping into my inbox via Google News Alert. Yes, this is a "Zunetastrophy" (I had to get it on the fun), but I think it's important to remember it's just a media player - let's keep everything in context. My favourite image so far is the one below, courtesy of this VentureBeat article. I'll point out that while I admire MG Siegler's wit, reading an article like this one confirms that he's about as balanced and fair-minded as a car with two wheels. But let's get on with the fun...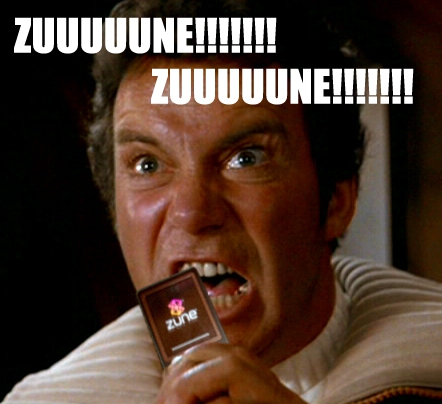 Here are the most entertaining headlines I've seen so far today:
The Zune Screen Of Death
Zune 30s all freezing up at once. Ack! Aliens!
30GB Zunes hibernating for 2009?
Zune gloom: hundreds of players failing simultaneously
Y2K returns 9 years later to disable Zunes?
30GB Zunes Killing Themselves In Droves
30GB Zune apocalypse arrives as devices enter digital coma
The Day Zune Music Died
Microsoft's Zune in Worldwide Meltdown
'Zune 30 Midnight Meltdown' Angers Music Lovers
The day the ZUNE stood still
Zune 30GB players get an early hangover
Microsoft facing 'Red Ring of Zune'?
Zune Extinction Event: Microsoft Music Players All Freeze Up at Once
Microsoft Scrambling To Thaw Zune Freeze
The Zune's New Year's eve of destruction
Zune became self-aware at 2:00 AM December 31, 2008
Did I miss any great headlines?