Holiday Gloom?
---
"Microsoft's latest answer to the iPod, with 120 gigabytes of storage and a 3.2-inch high-resolution color screen, is a vast improvement over the original Zune, which debuted in 2006. But the new Zune faces the same problem as the iPod: Smartphones and other Web-enabled devices chock full of features (think iPhone) threaten to render these one-trick players obsolete."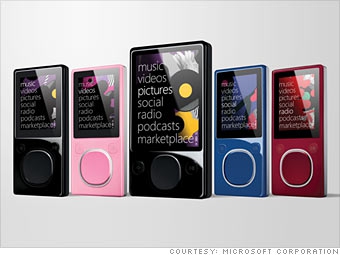 The holiday season is getting close and that means big sales for a lot of gadgets. Fortune has a list of gadgets, though, that it thinks will be flops. Fortune's biggest issue is that the prevalence of smartphones make the mp3 player start to look a bit long in the tooth. I'm not sure I agree with that assertion. Camera enabled phones have really done nothing to the digital camera business. Most people realize that a stand alone device is better in a lot of cases.

I think that, for now at least, the standalone MP3 player is still superior to almost any phone based option. The only one that really is a usable solution is the iPhone. And really, with phones tied to carriers, who wants to use that as their primary entertainment device. I really don't know that many people who have eschewed their iPod for an iPhone. Even people who have an iPhone mostly seem to have an iPod as well.

So with all that said, I think the impact on the Zune will be minimal. There is a large market for MP3 players that I really just don't see going away any time soon.