Zune: Welcome to the Flawed Social
---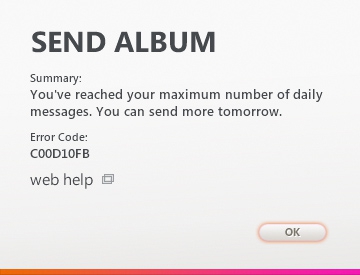 Since the 1.0 days, Zune has matured into a very capable platform. Yet there are still flaws, some of which have bugged me more often than not as of late. Here's a handful that I believe deserve some attention.
Send Feature
It seems simple enough. You see an album you like, you send yourself or your friends a link to it. I last used this feature a week ago, so when using it today for the first time, imagine my surprise when I was slapped with an error message stating that I had "reached my maximum number of daily messages". Yes, a daily quota that I had no idea existed and had apparently already reached. Wow, the mind boggles.
Let's take a look at how it's done in iTunes. You see any content you like, you right-click it, select "Copy iTunes Store URL", and then use the URL to your liking. That's it. No jumping through hoops, no limitations. What will it take Microsoft to offer something as uncomplicated as that?
Content Issues
Whether it's the Zune Marketplace, iTunes Store, Amazon MP3, or Rhapsody, there's a chance you'll eventually come across, or have already come across, some sort of content issue. This includes anything from typos and incorrect album art to audio glitches. When you do discover such an issue, what's the next step?
Microsoft offers a "Marketplace: Content Issues" forum for you to report content issues present in the Zune Marketplace. The idea is that you create a new thread and describe the issue in detail; with any luck, the Zune team responds in a timely fashion and the issue gets resolved. In theory, it's a fantastic idea; in practice, not so much. I've examined around a month's worth of threads in the forum and noticed two major problems: (a) the Zune team responds at a snail's pace or not at all, which could be due to (b) the fact that the legitimate threads are constantly lost in the noise generated by a handful of users who deem this particular forum a great place to post details of non-content-related issues.
I reported a content issue - audio glitches in an album, to be exact - over three weeks ago, and to this day, have yet to receive any indication that it's in the process of being resolved. I'm beginning to think that the 730 Points I channeled toward that album have gone down the drain.
Region Restrictions
Yes, good ol' region restrictions. We can't stop talking about this one.
When Zune 2.5 was released, Microsoft introduced a US-only restriction, which forced international users to set their computer's region to "United States" in order to browse and preview content in the Zune Marketplace. When Zune 3.0 was released, Microsoft introduced a Zune Tag restriction, which forced users to establish a relationship between their device and Zune Tag in order to browse and preview content in the mobile version of the Zune Marketplace.
Fair enough - these are probably steps taken to prevent users outside the US from purchasing content or a Zune Pass subscription, but surely there's a better approach that still allows anyone to browse the store? If Apple and Amazon.com can offer this, I see no reason why Microsoft can't offer the same, or more.
Your Turn
Now, it's your turn. What about the Zune would you like to see fixed?