Tip: Song Info in Taskbar Title
---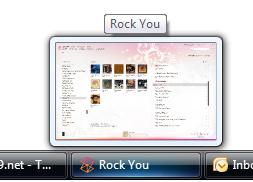 One of the cool new things the 2.5 software update features is a the ability to show info for the currently playing song on the Windows taskbar. When minimized (and playing a song) the title of Zune taskbar item will cycle through the current artist, album, and song, much in the same way the "now playing" field does within the software.
While not yet as functional as Windows Media Player's "mini mode", this is definitely a step in the right direction. Check it out for yourself; Minimize the Zune application and enjoy countless hours of fun and entertainment!
Thanks to Erik S. for the tip.