Contributing Editor Emeritus


Zune Originals: Making It You
---
Microsoft has launched, along with its very awesome new Zune players, website, software and overall new outlook on your portable music life, one more reason to want a Zune. The buzz started right before the Zune launched about the Zune Originals. The service allows you to get a Zune with a custom text engraving along with a choice of some very cool artwork to engrave along with it. I'm very seriously considering waiting for the Zune 80 to become available for the service because it looks really sweet. I recommend going over to the website just to play with the options and see the artwork. That may be enough to convince you! You can read Microsoft's press release after the break.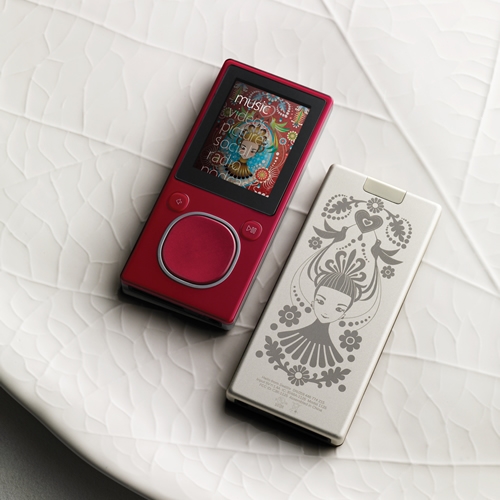 "Microsoft Unveils Device Customization via New Zune Originals Store, New Zune Players Available Tomorrow

Microsoft partners with 18 renowned artists to fuse high style with portable entertainment.

REDMOND, Wash. — Nov. 12, 2007 — Tomorrow, consumers ready for a richer, more connected and more personal entertainment experience will have the first opportunity to get their hands on sleek new Zune players, redesigned Zune software, and new online services including the Zune Marketplace and Zune Social, an online music community. The players — along with dozens of accessories — will be available at retailers across the United States, while the new Zune software will be available for free download at http://www.zune.net. For the first time, consumers also will have the option to customize their Zune player with laser-engraved designs and personal text through a new Web store called Zune Originals."
"Customers will be able to purchase a Zune player directly from Microsoft at http://www.zuneoriginals.net and choose from a collection of laser-engraved artwork designed exclusively for Zune by 18 internationally recognized artists. "We're bringing the entire category to the next level by empowering consumers to play a role in redefining the digital music experience," said J Allard, corporate vice president for Zune. "Zune brings music discovery and acquisition into one simple, end-to-end solution, and the addition of unique customization options puts the originality back into portable entertainment."

Zune Originals Gives Consumers a New Canvas Consumers no longer need to settle for the same portable media player as everybody else. The new Zune Originals online store will let people make a unique statement by customizing their Zune with laser-engraved art or personal text. Zune worked with 18 accomplished artists from all over the world to create a collection of 27 different designs, called the Artist Series, which will be available exclusively through Zune Originals.

In addition to the Artist Series, a separate Tattoo Series will feature 20 graphics that consumers can have laser-engraved on their Zune with up to three lines of text. Alternatively, people can choose to engrave up to five lines of text in place of a design. On the Zune Originals Web site, customers can choose their Zune (Zune 80GB, Zune 8GB or Zune 4GB), pick a color and then select a design and their desired text. The Zune Originals Artist Series will launch with designs from artists Colletivo Studios, Catalina Estrada, Laurent Fetis, Sam Flores, Klaus Haapaniemi, Pierre Marie, Kenzo Minami, Parskid, Mike Perry, Phunk Studios, Chisato Shinya, Skwak, Iosefatu Sua, Tado, Nobumasa Takahashi, Ramiro Torres, Darvin Vida and Steve Wilson. "I'm always interested in the way art can merge with technology to create a new dialogue," Estrada said. "My work has been shown in different venues all over the world, but Zune represents a brand-new canvas for me to display my ideas.""