Zune Pass: All You Can Eat - Usually
---
Angels & Airwaves is currently one of my favorite bands so I was very excited this past Tuesday when their new album was released. In fact, I'm listening to "I Empire" right now. When I got home from work I went straight to the Zune Marketplace and sure enough, there it was. I was very eager to add it to my music collection so I clicked on it and was greeted with a very unpleasant sight.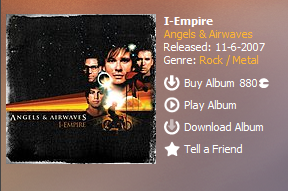 In case you're not sure what I'm talking about, look closely at the "Download Album" option. If I could download it for Zune Pass, then there would be a white arrow that's currently grayed out. I don't know why, but while AVA's first album is available, the second is not. Both were put out by Suretone so I don't see what would have changed.

My only other option was to purchase the tracks. While I have no problem subscribing to Zune Pass and being bound by the limitation of DRM for subscription music, I just don't want to buy music that way. Not when I can buy at F.Y.E. the CD for nearly the same price and have more flexibility with it. So today I ended up buying the album because I really wanted to hear it.

Fortunately this isn't something I often face. I can think of only three other bands off hand that I find to be a problem. One is Creed and the other is Evanescence. The final one is Metallica and I'm sure that will surprise no one. At least it shouldn't if you've kept up with their very 'anti-digital' stance. Its unfortunate and something I imagine Microsoft would make go away if they could since it's a bigger sell if they can say all of their music is available for Zune pass.

But it is what it is and while it makes me look down on any bands that prevent me from fully utilizing my Pass I can't deny that I still love the music. So for the occasional album, I'll buy it if I really want it. Angels & Airwaves is the only one I've bothered to so far. And, by the way, if you haven't listened to AVA yet, go check them out. If you liked blink 182 then you'll love Tom DeLonge's new band.