Ford SYNC Pricing & Details Released
---
"DEARBORN, Mich., August 9, 2007 – Ford Motor Company today confirmed the distribution and pricing strategy of Ford Sync, an advanced in-car communication and entertainment system developed in collaboration with Microsoft. Sync will be standard on Lincoln vehicles and widely available on Ford and Mercury vehicles. In most cases, Sync will be included as standard equipment on high-series models from Ford and Mercury – the Ford Edge Limited or Ford Focus SES, for example. On models where Sync is optional, it will be priced at $395. On certain lower-series vehicles where enabling equipment – such as steering wheel audio controls -- is not standard, additional equipment may be required at an additional cost."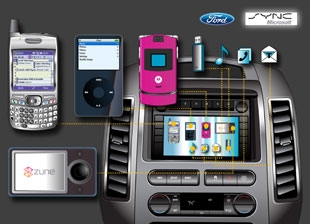 There's not much new in this announcement other than the price. $395 for this system has to be a joke. Because if I'm buying a new car and I can put an option like this in it for a mere $395 the only thing I'm asking is if I can have one in the front and one in the back! The only two things that are disappointing about this are that its available only for Ford and that you can't have it installed aftermarket. But if I were deciding between a Ford and another car, I may have to get the Ford!

Read the full press release here!