Panasonic Announces a Bunch of Superzooms; DMC-FZ200 Leads the Pack
---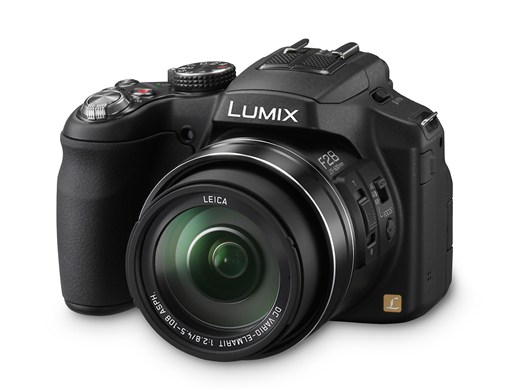 Next up, we have a lot of superzoom cameras from Panasonic. First up is the something that Panasonic has not done in a long time: A superzoom with a constant aperture through the entire zoom range. The DMC-FZ200 has an optically-stabilised 24x 25-600mm equivalent zoom lens that remains at f/2.8 throughout the entire range. Quite impressive, and with a small 1/2.33" CMOS sensor packing 12 megapixels. There is also a 3" articulated HVGA LCD and a slightly below SVGA EVF. The camera does 1080p video at 60 FPS (!) in AVCHD like the G5, and can do 12 FPS continuous still shooting with AF locked, and 5.5 FPS with continuous AF. The FZ200 also supports the raw format, and has a number of external controls for the serious shooter. Coverage of the other cameras and links after the break!
Next up is the DMC-FZ60/62, which is essentially a sibling to the FZ200. It drops the constant f/2.8 zoom lens, and replaces it with an optically stabilised 24x 25-600mm equivalent f/2.9-5.2 lens. The sensor is now a 16 megapixel CMOS sensor, and the HVGA LCD is now fixed, and the EVF has a much lower resolution at 202k dots. The video mode has a slight downgrade as well, doing 1080i video at 60 FPS. There is also no raw format support.
Panasonic also introduced a slim travel zoom with Wifi, the DMC-SZ5, which has an optically stabilised 25-250mm equivalent lens at f/3.1-5.9, paired with a 14 megapixel CCD. It's main draw is the Wifi feature, which with the appropriate Android or iOS app, allows the camera to be controles from the phone, and use the smartphone's GPS to geotag photos. As usual, social network sharing is supported. The camera also features a 3" QVGA LCD screen nad 720p video.
Finally we have the budget DMC-LZ20, which features an optically stabilised 21x zoom lens that is 25-525mm equivalent, with apertures of f/3.1-5.8, a 3" HVGA LCD and no EVF, P and M exposure modes (I wonder what is up with this kind of feature cutting), and 720p video in mono sound. The camera also uses AA batteries instead, so buyers will need to provide their own rechargeable batteries (use of alkalines is not recommended).
As with Panasonic, no release date or pricing is available till the products are closer to availability (again, makes me wonder what is the point).
DPReview.com: DMC-FZ200 Announcement and Preview
DPReview.com: DMC-FZ62/60 Announcement
DPReview.com: DMC-SZ5 Announcement
DPReview.com: DMC-LZ20 Announcement
__________________
Baka. Soku. Zan. - The justice behind the dysORDer.