Pentax Announces K-30 DSLR and 50mm DA Lens
---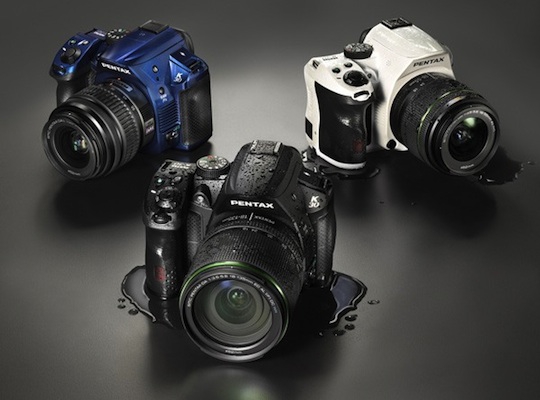 Pentax has announced their mid-range DSLR, the K30, which replaces the K-r. Like most Pentax DSLRs, they try to punch above their weight, with the K-30 offering a list of features such as a weatherproof body, a true pentaprism 100% viewfinder instead of a pentamirror, and frame rates of 6 FPS (both the Canon Rebel T3i/EOS 600D and Nikon D5100 are at 3.7 and 4 FPS respectively), and the very innovative sensor-based SR anti-shake mechanism. In addition to compensating for hand shake, the SR feature can be used to level horizons, adjust the composition without moving the tripod, and eliminating star trails in long exposure shots (though that last one requires a GPS for the camera to do the correct calculations). At the heart of the camera is a Sony 16 megapixel CMOS sensor with an ISO range of ISO100-12,800, like the one found in the K-5 and Nikon D5100/D7000, along with a 3" VGA LCD, an 11 point AF system featuring 9 cross points, and 1080p video at 24, 25 or 30 FPS. Three colours are available, and the camera will ship in July for US$850 for the camera alone, or US$900 with the 18-55 kit lens.
Also, Pentax announced the 50mm f/1.8 DA lens. I'm not sure what Pentax is up to. At US$250, it is more expensive than the Nikon or Canon offering, but like the Canon, features a plastic lens mount and no focus distance scale. I suppose if you are stuck on the Pentax system you have no choice, but the price seems a little high regardless. Ships in July. More photos and details at the link!
__________________
Baka. Soku. Zan. - The justice behind the dysORDer.