iWork Suite and Aperture Now Mac App Store Only
---
"Apple pulled the trial versions of Aperture 3 and productivity suite iWork '09 from its website, according to a report from MacStories. The links that previously contained download instructions now redirect users to the Mac App Store. An Apple support forum post suggests the Aperture trial was pulled a while ago."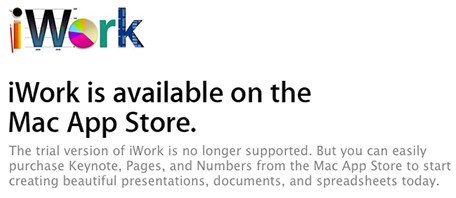 Aperture 3 and the iWork Suite (Pages, Numbers and Keynote) in the Mac App Store only, no big shocker I'm sure since that is where all of their software will end up. I do like it that way myself, makes things so much easier especially if you get a new machine and need to reinstall.
__________________
iPhone 4, 1.6 GHz Core 2 Duo MacBook Air, Apple TV, 2.66GHz Intel C2D Mac Mini, 1TB TC, Airport Extreme,several iPods and an iPad, 32GB Wi-Fi version.
Follow me
on Twitter.