iPhoto or Photoshop Touch?
---
"The Retina display on the new iPad is one of the tablet's defining features, and it makes the device ideally suited for multimedia work, including image editing. Apple's new iPhoto app and Adobe's Photoshop Touch are taking advantage of that opportunity by bringing powerful photo editing and sharing tools to the iPad."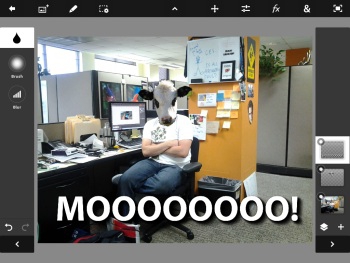 I haven't done much with either program, although both are on my iPad. I'm not really sure which is the best for my needs, and I'm still weighing both options but at least with this article it makes it clearer. What are your thoughts on these two programs for iPad?
__________________
iPhone 4, 1.6 GHz Core 2 Duo MacBook Air, Apple TV, 2.66GHz Intel C2D Mac Mini, 1TB TC, Airport Extreme,several iPods and an iPad, 32GB Wi-Fi version.
Follow me
on Twitter.