Begone Storage Problems With Windows 8!
---
"Windows 8's new Storage Spaces functionality will easily allow users and system administrators to pool different physical drives together into one logical drive, writes Rajeev Nagar on the Building Windows 8 blog. This functionality, which is similar in some ways to the now-discontinued Windows Home Server Drive Extender, will allow drives of any capacity connected to a PC by USB, SATA, or SAS interfaces to be seen by the OS as one large drive."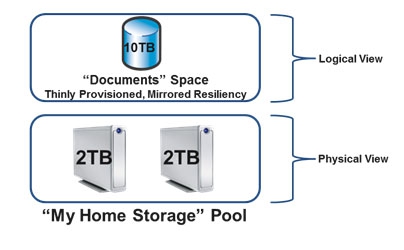 Yes! Yesyesyesyes, and oh yes! Like any self-respecting geek, I maintain a NAS at home for all my storage needs. Currently, I use Windows Home Server 2003 and the primary reason for it is a nice little feature called Drive Extender. Basically, it manages your hard drives so that they look like a single drive. Why not use something like RAID or JBOD? Well, RAID, while nice, has limitations that usually are set when you initially set up the array, while JBOD has its own issues with drive failure. Drive Extender manages everything for you so you can stop worrying and just enjoy a mega-terrabyte drive. Microsoft, in its evil ways, decided to cut DE from WHS 2008 so I have been stuck with my existing storage system, but it looks like Windows 8, while not a NAS OS, might let me keep up to date and use newer hard drives!