Amped Wireless High Power R10000 Router Review
---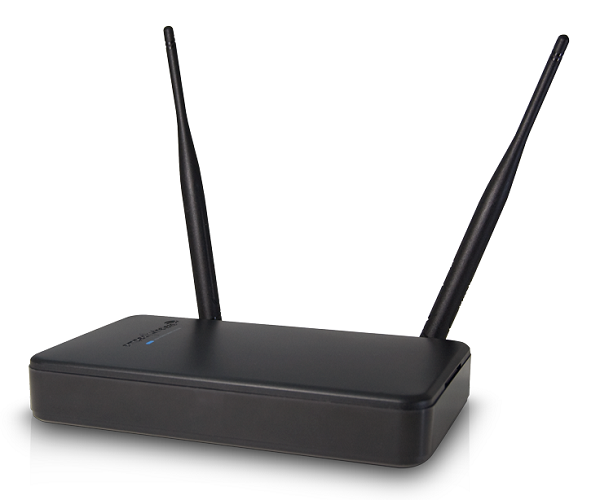 Product Category: Home Router / Wireless Access Point
Manufacturer: Amped Wireless
Where to Buy: Amazon [Affiliate]
Price: $119.99
System Requirements: A computer with Ethernet for setup.
Specifications: Band: 2.4GHz, 80211b/g/n. MIMO. 300Mbps. Security: WEP, WPA, WPA. Output power: 29dBi. Antennas: dual 5dBi removable. Ports: 4 10/100Mb and one 10/100Mb up link.
Pros:
Excellent wireless coverage;
Fast data transfer;
Easy setup.
Cons:
Ethernet ports only 10/100Mb (Gigabit model coming soon);
Single 2.4GHz band (dual band model coming after the Gigabit version).
Summary: If you have spots in your home with poor wireless coverage, or find streaming HD video often breaks up, the high powered Amped Wireless R10000 router may be a better solution than adding one or more additional access points. Our tests show this device really does provide wide coverage and high speed.
Power to the People!
"Dad! The Internet's down again!"..."No, sweetie, remember the WiFi doesn't reach that side of your room; come downstairs or plug in the Ethernet." If this sounds like your house you may be in the market for upgrading your wireless router or adding one or more access points to your network.
If you see the Amped Wirless HIGH POWER Wireless-N 600mW Smart Router on a retail shelf (Figure 1) you may be skeptical about the claims.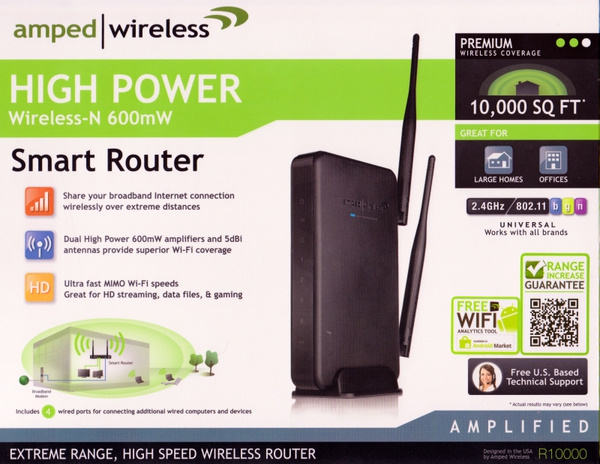 Figure 1: The well designed retail box has a large number of catch phrases to stand out when displayed on a retail shelf. Maybe too much to believe?
The features listed on the box are interesting if somewhat redundant and curious ("works with all brands"). One can imagine how much work the marketing department and graphic designers put into it.
The proclamations include:
HIGH Power Wireless-N 600mW Smart Router
Premium Wireless Coverage 10,000 SQ FT
Great for large homes, offices
UNIVERSAL Works with all brands
Share your broadband Internet connection wirelessly over extreme distances
Dual High Power 600mW amplifiers and 5dBi antennas provide superior Wi-Fi coverage
Ultra fast MIMO Wi-Fi speeds. Great for HD streaming, data files & gaming
Range Increase Guaranteed (and QR code pointing to a mobile page with their guarantee)
Free WIFI Analytics Tool
Free U.S. Based Technical Support
Amplified
Extreme Range, High Speed Wireless Router.
The back and sides of the box are jam-packed with additional information. It has to be among the most information-rich packages I've ever seen. The "Range Increase Guarantee", by the way, is a 35% discount on another Amped Wireless product. I expected "all your money-back" and free return shipping. They should have more confidence in the product.
What's Included
The study cardboard interior box and packaging is typical for a device like this, with one surprise: two Ethernet cables are already connected to the router with large tags labeled "Connect To PC" and "Connect To Modem" (Figure 2). That's a nice touch. You will still have to connect the power supply and antennas, but figuring out which port goes where is probably a common problem for novices.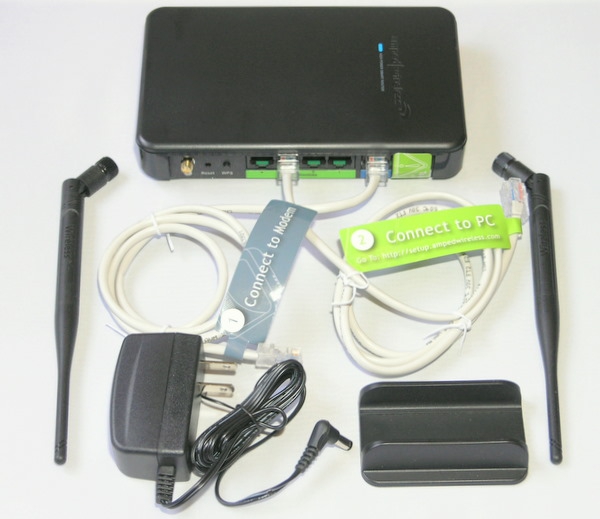 Figure 2. Ethernet cables come already plugged in and clearly labeled. Antennas, power supply, and a stand for placing it vertically are as you expect.
Instructions and a CD with documentation and an installation video are also included. The printed instructions were clear and easy to follow. I would not normally look at the CD but did play the installation video and it was very good. The setup guide on the CD was the same as the printed fan-folded sheet; there was also a 72-page (very small pages) user's guide.
Setup and First Quick Test
I was going to do most testing with the router setup as an additional Wi-Fi access point, but decided to test it as our home router connected to the cable modem. Setup for this was very easy and the instructions were just about perfect. The only fault with the simple 12-steps was a reference to the "blue" Ethernet cable and the "grey" Ethernet cable; my unit had two white cables. One neat feature is that Amped Wireless has the router's default address of 192.168.3.1 registered to setup.ampedwireless.com, so connecting a browser to the router for setup is easier than using the IP address.
The router's web interface (Figure 3) is designed for inexperienced home users with a graphic on most screens to help describe the function and a panel of "Helpful Tips:" on the right.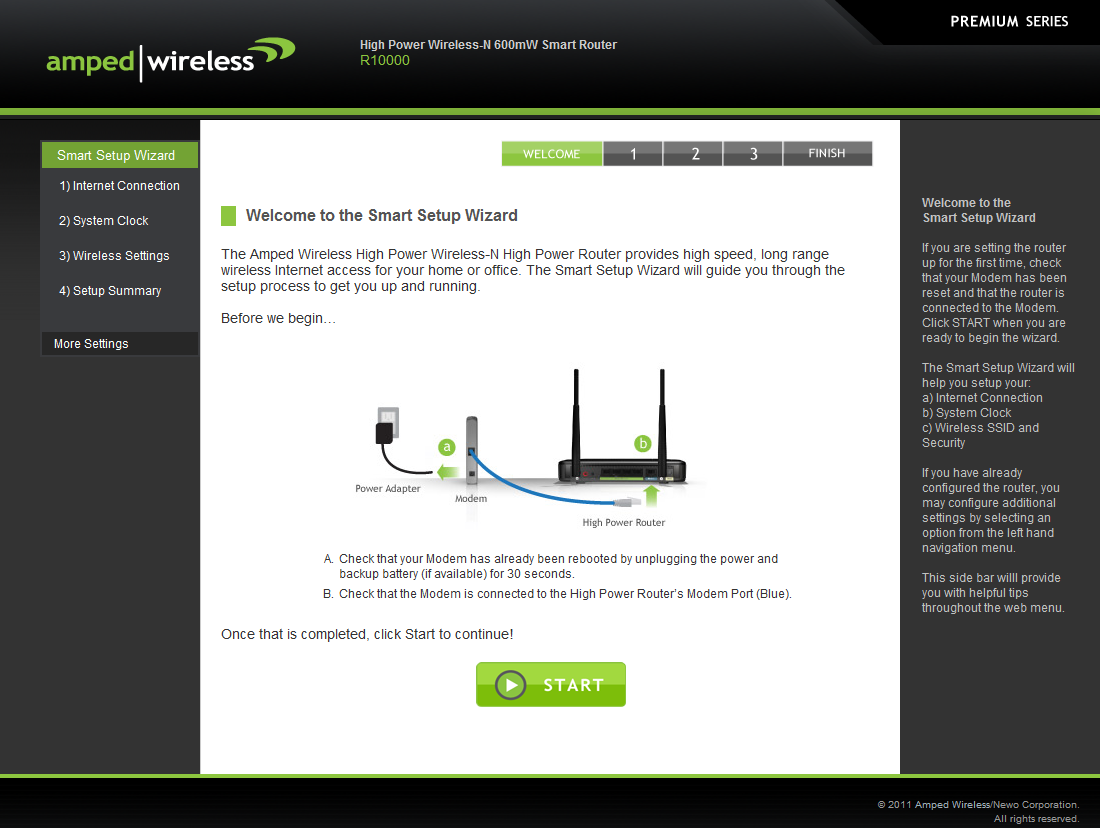 Figure 3. The router's management home page always starts with a Smart Setup Wizard.
The home page opens to the "Smart Setup Wizard" and the automatic configuration took only a couple seconds. I then disconnected the Ethernet from my laptop, connected to the wireless network, and connected the 4 Ethernet cables that were on the old router to the R10000. That did make all the Windows 7 computers on the home wired network detect a new network and ask if it was home, work or public before they obtained an address. One small complaint is the router's web pages are too wide to see all 3 panels on my laptop's 1024-pixel wide screen. The right-most panel is just usage tips and instructions, so that can usually be ignored, or you can use "ctrl -" on your browser to see the whole screen.
Now for some quick wireless testing.
I took my laptop to some problematic locations in our house. In the "work room" where we have a second access point because the signal from our current router doesn't reach there ... wow, 5 bars and "excellent" signal strength from the R10000. Further upstairs to the "den"... still 5 bars and "excellent". Now this is exciting!
About Our Home Network
Here's a little background on our home network to explain why this is exciting. We've had four different wireless routers over the years and currently have a D-Link DIR-825 which has two bands, many features, but mediocre performance and range according to this review. I recall it being a good price and I was attracted to the dual-band feature. We weren't trying to solve a range or throughput problem, but were upgrading to support 802.11n.
We also have Ethernet cable pulled to 5 rooms with a Gigabit switch in one to extend the 4 ports from the router. The TV cable comes into a corner of the ground floor where the cable modem, TV, and media center are housed. This is a good spot to distribute the Ethernet connections, but a very bad spot for a WiFi access point. Network use is mostly just web browsing and email, so laptops in most parts of the house work with a weak signal. But we also backup disk images from these computers and that usually requires an Ethernet connection.
Last year we put an elliptical stepper torture machine in the "work room" between the garage and the rest of the house, with the intention that I would watch recorded TV streamed from the Media Center to my laptop in order to make the workouts tolerable. There are 40 feet and 3 walls between it and the router, but Windows says the signal strength is "good" with two bars. It was a surprise and disappointment that drop-outs in the HD stream were so frequent that it was unwatchable.
So I pulled Ethernet to that location. That worked, but often Media Center would still use the weak wireless connection rather than the Ethernet, and I'd have to disable the wireless. So I added an inexpensive second access point there, a D-Link DAP-1522, which I didn't research very well. It was called "dual" which I thought meant dual-band; it was not. It does 2.4 GHz or 5 GHz, but not both at the same time. Also, it has no external antenna. I had thought it could be mounted in the hallway and help out the rest of the house, but even being one wall away from the laptop resulted in poor playback of HD recordings. Now it lives 12 inches from the laptop's shelf in front of the exercise machine. That works, but I naively thought that making a second access point have the same "SSID" as our router would result in Windows selecting the AP with the stronger signal; that was not the case and every morning I have to remember to manually connect tot the DAP-1522. No big deal, but not optimal.
With the R10000 replacing both D-Link devices, everyone in the house was quite happy. Many mornings I watched a 30-minute show (20 minutes after automatic commercial skipping) while doing the stepper-torture, with the DAP-1522 turned off, and all shows played without error. This alone is enough to make me recommend the router, but let's do some more objective testing and compare the performance of the Amped Wireless R10000 with the D-Link DIR-825 and the D-Link DAP-1522 as medium- and low-power devices.
Tests
Several different tests were devised to see how the R10000 compared in range and speed with the two D-Link products on hand. In the first round of tests, a Lenovo X60 connecting with 802.11n and WPA2 encryption was used. This computer's internal WiFi adapter, an "Intel PRO/Wireless 3945ABG Network Connection" was limited to a 54Mbps. Later, other laptops and adapters that support faster speeds were tried.
Outside Line of Site
Line-of-sight range was measured by setting up each device just outside the house and placing markers in a straight line 50, 100, 150, and 200 feet from the starting point. WirelessMon Version 4.0 from Passmark Software was used on the X60 to get the signal strength at each point. I tried measuring the signal with my HTC Droid Incredible, but it reported large variations in the signal strength from moment to moment for various WiFi utilities, including Amped Wireless's own Wi-Fi Analytics program. So with the laptop, three observations were recorded walking away from the house and three more on the way back, and the average of the 6 charted for the DAP-1522, each band of the DIR-825, and the R10000. You might use these results to compare your current router, although every laptop is different. Inside a house, wireless performance will vary greatly depending on room layout and construction materials.
An Aside About Signal Strength
WirelessMon and most, if not all, WiFi utilities report signal strength in "dBm"; see http://en.wikipedia.org/wiki/DBm for an explanation of this unit. Zero is equivalent to one milliwatt and -3 dBm is about 0.5 milliwatt. WiFi signals are much weaker, ranging from around -30 dBm (really good) to -80 dBm (really weak). For the signal strength charts the numbers shown are 100 + the dBm measurement, so the "good" signals have taller bars than the weak ones.
Signal strengths for each device, and both bands on the DIR-825 are shown in Figure 4. The R10000 was better in all cases, and very much better at the longer distances.
Figure 4. Line of sight signal strengths (subtract 100 to get dBm numbers) for each device and the two bands supported by the DIR-825 .
In particular, at 200 feet with an average signal strength of -67 dBm the connection would be far more usable than the next best, -78 dBm for the DIR815's 5GHz band (subtract 100 from the numbers shown to get dBm).
Signal Strength, Indoors
Since we don't do much Internet surfing outside, signal strength and throughput were measured in 4 locations for all three devices:
Location 0: same room, line of sight, about 10 feet.
Location 1: half level up, two walls in between.
Location 2: same level, opposite end of house, one wall in between.
Location 3: second floor, almost directly above the router, one floor in between.
Four other locations in the house that neither D-Link device could reach were measured as well. Only one location, the farthest end of a third floor room where the signal was around -83dBm, was too far away to do the file copy test. It was interesting to note the Windows 7's wireless indicator showed two bars for that location, but not a single file could be copied. Another indication that bars are fun, but not good for you.
Note also that tests with the DIR-825 and R10000 were done with the router setup as the primary connection to the cable modem and with its Ethernet ports linking the rest of the house, and the target file server. I do not think the R10000's 100Mb Ethernet ports limited its performance in these tests in comparison to the DIR-825's Gigabit ports because the test laptops maximum link speed was 54Mbps. The DAP-1522 AP was tested with it a short distance from the DIR-825, but it was not in the exact same location as the other two devices when throughput was measured.
You should be warned that swapping out your home router several times a day will not endear you to your family members, but is a good way to get them off so as not to interfere with testing.
Results are shown in Figure 5: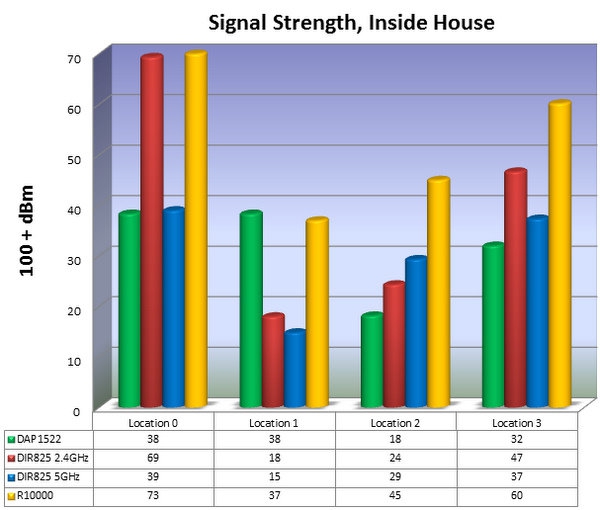 Figure 5. Average signal strength for the different devices/bands measured from 4 locations in the house. Various walls and floors block signals.
It is interesting that the DIR-825's 5GHz band was so much weaker than the 2.4GHz band. Also curious are the results for the DAP1522 at location 1, which I re-tested several times on different days. But in general you see the R10000's high power is demonstrated as significant, particularly where walls and floors in are in the way.
Throughput Test Results
While the signal strength measurements are interesting, they aren't necessarily a good prediction of how fast the network connection will move data to and from your computer. All kinds of things affect a wireless connection besides the signal strength. Protocols such as 802.11n, which was the only connection type used in these tests, have various features that might improve speed, and various RF sources can interfere with WiFi. You will often see the link speed on a wireless connection change from moment to moment.
For a practical measurement of throughput, a file copy test was devised using Windows' Robocopy command to copy 3 files, totaling 214MB, to and from a computer on the house's Ethernet network. The test was repeated 3 to 6 times for each location and each device. In most cases the individual runs were very consistent and repeatable on different days, but more runs were done if the first 3 were inconsistent.
Here the speeds are reported in megabytes per minute (MB/min) which is what Robocopy reports and which seems appropriate since we are transferring a couple hundred megabytes and it takes one to several minutes. Network speeds are typically reported in Mbps (megabits per second) so I suppose you could multiply these numbers by 8 to get bits and divide by 60 to get Mbps, but file copy tests have overhead for the various protocols (Ethernet, TCP, SMB) and are dependent on the computers on each end as well as other factors, so it is best to look at the numbers as a comparison of the different devices in my particular environment rather than what you might get yourself.
See above for a description of the 4 locations.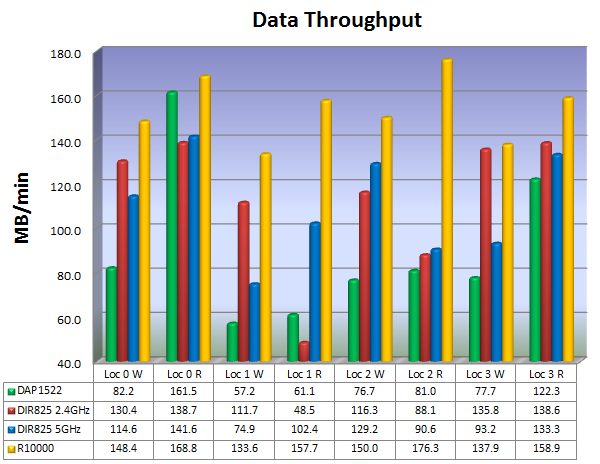 Figure 6. Write (transmit) and receive (read) test for each device/band and at the 4 locations in the house.
There were some surprises here, for example how well the DAP-1522 did for read (but not write) in location 0, then the poor read speed for the DIR825's 2.4GHz band at location 1. In all cases the R10000 was faster, and often significantly faster.
This test was repeated from four more locations in the house that neither the DAP-1522 or DIR-825 could reach. Here are the signal strengths and write and read speeds:
Location 4: -69 dBm, write 88.6 MB/min, read 147.5 MB/min
Location 5: -67 dBm, write 114.5 MB/min, read 158.4 MB/min
Location 6: -71 dBm, write 87.3 MB/min, read 110.2 MB/min
Location 7: -78 dBm, write 71.3 MB/min, read 119.2 MB/min
Location 7 was a third-floor guest room, furthest from the router on the ground floor. At the far end of the room with a signal strength of -83 dBm, no files could be copied. Moving a few feet to the middle of the room improved the signal to -78 dBm and throughput was not terrible. The other devices could not even be seen from this location.
Network Contention Test
Your WiFi network is shared bandwidth, so as more clients are connected, individual performance will degrade.
To see if a difference could be detected between devices with multiple clients connected, HD video streaming via Windows Media Center connected to our home media center (also connected by Gigabit Ethernet, but not the same computer used for the file copy tests) was started on one and two additional computers and the file copy tests were repeated from Location 0. This test could also demonstrate the advantage of a router that supports both 2.4GHz and 5GHz bands at the same time, such as the D-Link DIR-825.
Figure 7. File copy speeds with one additional computer ("2 Clients") and two additional ("3 Clients") competing for bandwidth. Only the laptop doing the timings could use a 5GHz band, and we see the speed on that band was unaffected by the use of the 2.4GHz band.
In this test, one, then two additional computers streamed HD video during the same file read and write test as shown in Figure 6, along with the "Location 0" results from that test. Those streams typically needed 10 to 15Mbps, or around 25% of a 54Mbps link. We see that the added clients does indeed slow down data transfer speeds when on the same band. BUT, these two laptops could only use a 2.4GHz band, so this test doubles as showing the advantages of having two bands. The throughput speeds for the DIR-825 5GHz band (blue in Figure 7) remained high when the other two computers were making the 2.4GHz band busy. Note how poorly the DAP-1522 held up with multiple clients, showing it isn't just a matter of available bandwidth; an access point has other things to do such as WPA encryption/decryption.
Finding MIMO
The R10000 supports 802.11n with some new technologies like MIMO (multiple input, multiple output) and Channel Bonding allowing possible link speeds of 150Mbps to 300Mbps if all the right conditions are present and your computer's wireless adapter also supports these technologies. The tests described thus far were made with a laptop that could only go to a maximum 54Mbps link speed.
I had an inexpensive (less than $12) AirLink101 AWLL5077 Golden 150 Wireless USB adapter sitting around, and tried it in the Lenovo X60. Link speed mostly stayed at 150 when sitting close to the router. The write test at 85 MB/min was poor compared to other tests at Location 0 (Figure 6) but the read test clocked in at 445 MB/min, 2.5 times as fast as the best read speed the internal adapter could do with the R10000. Later when doing my elliptical stepper workout (Location 4), recorded TV streamed to the laptop was unwatchable. The adapter could just not keep up, which I attribute to the lack of an external antenna for this small USB adapter.
Next I tried an HP Touchsmart tm2; not brand new but not too old of a laptop. The link speed reported by Task Manager for the "Intel WiFi Link 1000 BGN" flipped between 72 and 117 Mbps. The setting for the adapter's property "802.11n Channel Width for band 2.4" was "20 MHz Only". Changing that to "Auto" resulted in link speeds of 150 and 162 Mbps.
Lastly, an almost-new HP Pavilion dv6 belonging to a relative, also with an "Intel WiFI Link 1000 BGN", alternated mostly between 150 and 243 Mbps but sometimes went to 270 and 300 Mbps briefly. An hour later, in the same position, link speed alternated between 150 and 300 Mbps every few seconds. It was only about 8 feet from the R10000, so I wonder what conditions would allow it to sustain 300 Mbps. At locations further away this computer did not do well. At Locations 4, 6 and 7, a connection could not be sustained to do the throughput test. The link speed was sometimes reported as 81 Mbps, then 1 Mbps. I changed the adapter setting "802.11n Channel Width for Band 2.4" from "Auto" to "20 MHz Only". Link speed then alternated between 72 and 144 Mbps at Location 0, presumably because there were fewer channels available. But tests at Location 4 now completed, so I decided to do the throughput test for all locations and both band width settings.
The next night a driver update came down for this computer, and it improved the connectivity with "Auto" setting, so I re-did the tests, summarized in Figure 8.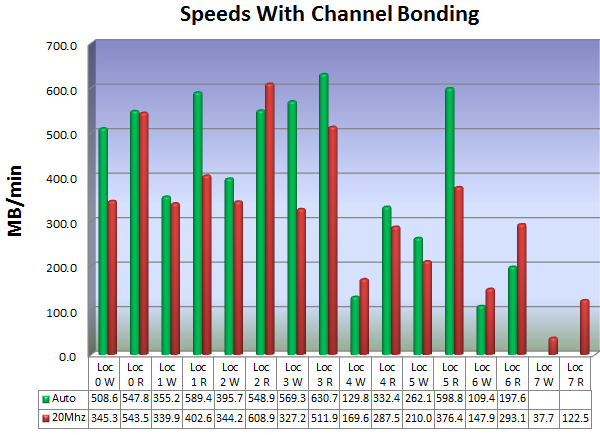 Figure 8. Throughput tests with an HP Pavilion dv6 supporting faster 802.11n speeds. The Auto setting presumably picks the 40Mhz channel width which worked well when close to the router, but poorly or not at all when further away.
There are several interesting observations that can be made here. First, the individual runs for these tests were more variable than with the Lenovo X60, but both transmit (write) and receive (read) speeds could exceed 600 MB/min, or 3.5 times as fast as the best speed the older laptop managed with the R10000. But not for the most distant location 7, where the Lenovo X60 could write at 71.3 MB/min and read at 119.2 MB/min, whereas the HP dv6 could not connect at all with the "Auto" bandwidth setting, and managed only half the write speed when the 20MHz setting was used. It could be that this laptop's antenna configuration was not as good as the one in the Lenovo.
It also may be that client adapters are a work in progress, given that a driver update significantly changed how well the HP's adapter worked, and that the Auto setting for the channel bandwidth did not seem to back down to 20Mhz when in a location with a weak signal.
Later, after completing tests with the R10000 and re-installing my DLink DIR-825, I looked on and saw it also had a bandwidth setting, but it defaults to 20Mhz. I set it to Auto/40Mhz and turned on the HP tm2. Still only 8 feet from the DIR-825, it reported link speeds of 65 Mpbs and occasionally 117 Mbps, but never 300 Mbps. Back at 20Mhz the link speed did not change. I don't know what feature the the R10000 has that the DIR-825 is missing. Ok, one more round of tests with the HP dv6 and the DIR-825 with both bandwidth settings:
20Mhz: 248/398 MB/min (write/read), the R10000 was 39% and 36% faster.
Auto: 323/447 MB/min (write/read), the R10000 was 57% and 23% faster.
One lesson here is that before you buy a new router or access point that claims 300 Mbps speeds, be sure your computer(s) are also up to it.
Ethernet Ports
The R10000 reviewed had 4 100Mb Ethernet ports, and one 100Mb port for your cable/DSL modem. This is a curious limitation given that wireless speeds up to 300Mb are supported. A Gigabit Ethernet version is coming out soon, and it would be interesting to see if our maximum speeds of 600 MB/min (80 Mbps) would be exceeded since the target server was on my Ethernet.
If you don't have Ethernet wiring in your house, or use the R10000 just as an additional access point, then you may not care that the ports are limited to 100 Mbps.
Power Consumption
Home routers are small devices that usually have small AC adapter; we would not usually be concerned about how much electricity they use. But the Amped Wireless R10000 being "HIGH POWER", I wondered if it drew a lot of power or not. I connected the AC adapter to a power meter, and it drew about 2.5 watts when no one was using the WiFi (but the Ethernet ports are always in use) and up to 5.2 watts with several computers hitting their WiFi connections pretty hard. The D-Link DIR-825 drew 7.5 watts when idle and 8.4 watts with a couple WiFi connections streaming HD video. That translates to a difference of about $4.00 to $5.00/year for me, so while it is interesting, power consumption would not be much of a factor unless you were deploying many such devices in a large building.
Management Interface
Home WiFi routers can do very many things and it is no doubt very challenging to present an interface that is usable by the least-experienced consumers but still provides access to advanced features. The R10000 leans towards the novice, always opening to Smart Setup Wizard page (Figure 3), which I suppose make sense as most people are only going to go there if something is wrong, and most of the time they should just re-run the wizard.
I found myself wandering around under "More Settings" frequently. The menu structure is logical and may give you an idea of what you can do:
Wireless Settings

Basic Settings (band, mode, SSID, Channel Width, etc.)
Security Settings (encryption type and keys)
Advanced Settings (bunch of stuff I do not understand)
Wi-Fi Protected Setup (feature for clients that support WPS for easy connection with a PIN)

Network Settings

Local Network (LAN) (DHCP settings)
Internet Network (WAN) (options for your ISP connection and DNS settings)
Advanced Settings (bunch of stuff for passing traffic through)

Smart Features

Wireless Coverage Controls (select output power to less than 100%)
Access Schedule (restrict WiFI to 1 to 10 different day of week/hours)
Block Websites (URL filtering)
User Access (MAC) (block listed MAC addresses)
User Access (IP) (block listed IP addresses)

Firewall Settings

Port Filtering (block TCP and/or UDP packets for specified ranges of ports)
Port Fowarding (forward packets to a particular local IP address)
DMZ (define unrestricted access for a particular local IP address)
Virtual LAN (VLAN support)
Denial of Service (optional protection from various types of attacks)

Quality of Service (disabled by default)
Management

System Status (up time, IP address, wireless and LAN summary)
Network Statistics (packet counts)
System Clock (you may sync clock with your computer)
System Logs (view or setup remote log server)
Upgrade Firmware (download file from support site first)
Save/Reload Settings (settings download to your Downloads folder as config.dat)
Password (change userid and password used to log onto the management interface)
All pages have a panel of "Helpful Tips" on the right, and generally they are helpful. Many pages have a graphic that I supposed is meant to help you understand what you are working on (Figure 9), but for me these just take up space and I wish there was an option to turn them off.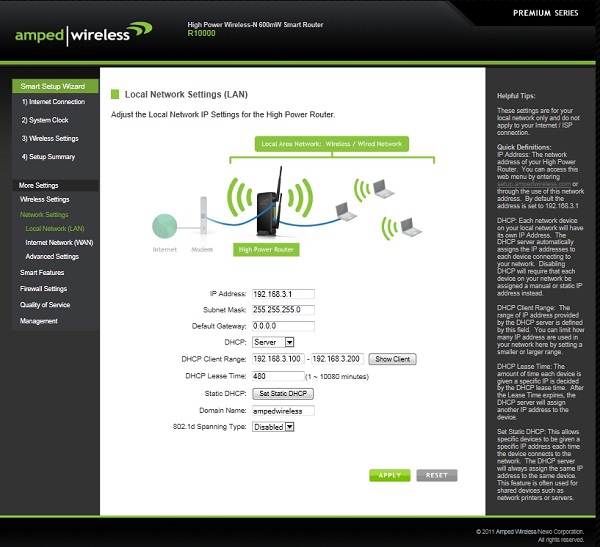 Figure 9. An example of one of the settings pages with a tips panel on the right and a not-so-helpful graphic.
Most of the settings are fairly easy to find, but there are a few awkward places. For example, the "Basic Wireless Settings" has a button for "Guess Networks" that opens new page without the menu, tips and other formatting of the main pages, and another button for "Show Active Clients" that opens a pop-up window, that perhaps is what the "Guest Networks" was meant to do. Another complaint: you can enable one to four guest networks (alternate SSID's) but then have to go find the Security Settings page, select that network name, then select the encryption type and key.
I found the Guest Networks feature very helpful to define an SSID that was the same as my existing router's 2.4GHz band. Using the same WPA2 key, clients would not have to be reconfigured as I switched between the DIR-825 and the R10000.
It seems that every configuration change required a reboot, which I found odd and annoying, as rebooting cut off everyone in the house, wireless and wired. On reboot, a page is loaded that does a 100-second count down before returning to the page you were at. I found I could close that tab and go back to setup.ampedwirless.com to resume without waiting the 100 seconds. It even wants to reboot when you change the option of what to display in the System Log. This seems to be an error; the display is updated without rebooting.
According to the setup video, Chrome, IE, and Safari browsers are supported; Firefox is not. I usually use Chrome, so that wasn't a problem for me.
Advanced Features
The R10000 does everything I need, but perhaps my requirements are not too advanced. I do like to have my Media Center PC accessible outside the house so I can check things with Remote Potato via my Android phone. That requires assigning an IP address to the HTPC. You have to find the "Set Static DHCP" on the Local Network page, but write down the PC's MAC address first, as the R10000 doesn't let you pick from a list of connected MAC address like the DIR-825 does. Next, setup port forwarding under Firewall Settings. Then I setup Dynamic DNS (found under Management) so my Comcast WAN address is made available to my phone. DynDNS and TZO services are supported.
Tech Support
Early in the review I checked the firmware level on the R10000, which was listed as 2.5.2 10/13/11. Amped Wireless's support site listed a firmware version dated 10/31/11, but no version number. I installed that and the result was "2.5.2 10/13/11", so it was not newer. It would be better if the web site had the version number too, and if the update process would detect that the firmware being applied was not different. The R10000's userid and password was reset to admin/admin; I did not see a message about that.
I sent an email to the support address listed to ask about the firmware number; I didn't get an answer in about a week so I resent it, then again a few days later. I never did get an answer but saw a new support address when I went back to the support page. I was about to write here that I wished they had a support ticket system and an online form, when I saw that just such a thing was newly implemented. I filled out the form asking about the firmware number and date, and got a prompt answer. I was told to check for a firmware in a couple of days, and indeed one dated 12/06/2011 was put up later (still no version number).
I installed that firmware and the userid/password was not reset, but the clock was way off after reboot. The firmware version was 2.5.2.02 and the "READ ME" file listed only minor changes. It would be helpful if the web site had the list of changes so you could decide if it was worth bothering with the update.
Anyway, back to the original support email, I think I just hit them during a transition and you should expect prompt answers from support questions submitted via their online form.
Conclusion
The Amped Wireless R10000 Premium Smart Router is indeed high power and fast. It demonstrated excellent WiFi coverage in my house and it provided connectivity to locations not at all reachable with a D-Link DIR-825 and D-Link DAP-1522. I would not have needed a second access point if I had this router. It is also high speed, supporting 802.11n features allowing link speeds up to 300 Mbps. Data throughput wase measured at up to 2.2 times as fast as the DIR-825, but averaged 45% to 50% better across all locations. Performance depended greatly on how close the computer was to the router and how well the client's WiFi adapter worked. The R10000 also did well with multiple clients, but if you have several computers doing a lot of WiFi I/O all the time, and one or more of them can use the 5 MHz band, a dual band device may be better for you. I have not found dual bands very helpful in my house.
The R10000 is easy to setup and use, and it has many advanced features. Its only failing are the 100Mb Ethernet ports, but if you don't have a Gigabit Ethernet network, or you use it just as an Access Point, that may not matter. A Gigabit Ethernet version will be out soon, and a dual band version after that.
Chris Sacksteder is a systems designer living in central Pennsylvania. Hobbies include regularly disrupting Internet connectivity in the house, so his family appreciates him more when it does work.

Do you enjoy using new hardware, software and accessories, then sharing your experience with others? Then join us on the Thoughts Media Review Team! We're looking for individuals who find it fun to test new gear and give their honest opinions about the experience. It's a volunteer role with some great perks. Interested? Then click here for more information.