Slipping into the LTE Jetstream -- a review of Rogers' HTC Jetstream
---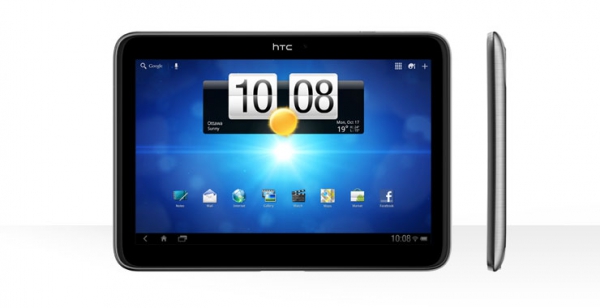 Product Category: Tablet
Manufacturer: HTC
Price: USD $499 w/3 year contract, $799 w/o contract from Rogers; $599 with w/2 year contract, $749 w/o contract from AT&T
System Requirements: Android 3.1 (Honeycomb) with HTC Sense
Specifications: 256mm (10.1in diagonal) LCD tablet with 1.5GHz, dual core CPU; 1G RAM; Quad band GPRS, Tri-band HPSA + LTE; 32G internal memory (28G available) + microSD card slot (32G maximum); 250mm (9.87in) x 178mm (7in) x 13mm (0.5in); 750g (26.5oz). Full specifications can be found here.
Pros:
First LTE-capable tablet available in Canada;
Very comfortable size and weight;
Cons:
Pricey compared to other tablet offerings available;
Yet another non-standard charging/sync port.
Summary: In October 2011, with much fanfare, Rogers announced the availability of the HTC Jetstream (aka the HTC P715a) -- Canada's first LTE-capable tablet. Even though the LTE network is limited to three cities in Canada (Montreal, Toronto and Vancouver) we were able to get one of the preview units and play with it for a week in Victoria and Vancouver! So, does an LTE-equipped tablet run circles around mere 3G/H models? The results were surprising.
Introduction
During a quiet evening at home, my wife and I spend quite a bit of time on the internet. She uses her laptop to check out emails, work on spreadsheets and documents for various volunteer groups, and plays crosswords, Soduku and poker. I mostly check emails and the news on my smartphone. Her laptop is getting old and finicky, so I was thinking a tablet might be a great solution for both of us -- she to get something lighter, more portable, and instant-on (no more waiting for it to boot up) and me to get more screen landscape to work with. When Rogers' PR firm contacted us with an offer of an HTC Jetstream to review for a week, I thought this was the perfect opportunity to test out a state-of-the-art unit and see how it would work for us. We were both really excited about the possibilities, even though we wouldn't be able to test out the 'blazing' LTE speeds at our home in Victoria. Fortunately (for me) I also work in Vancouver during the week, so it was no problem to take it over the water for a couple of days to give it a high-speed spin.
Package Contents
The tablet arrived a couple of days later via courier, and I have to admit I was a bit surprised at the plainness of the packaging. It came in a simple white cardboard box with a picture of the tablet on the top. Usually HTC is a little more flashy than this but, hey, the important thing is the tablet, right?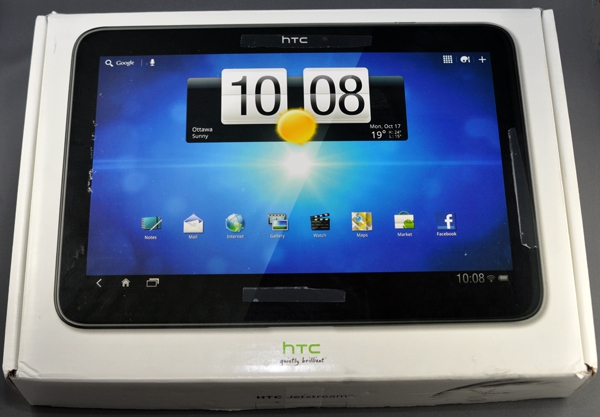 Figure 1: This is the box the Jetstream arrived in. There are a couple of crumples around the edges due to this being a review-loaner unit but, overall, it's pretty plain.
Inside the box comes the usual assortment of accessories we see for most smartphones -- quickstart guide, wall charger, and sync cable. Interesting that there were no earphones included.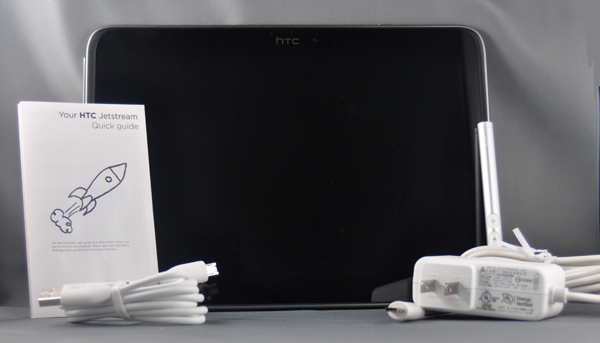 Figure 2: Here's what comes inside the box. No, I didn't take this picture with the colour turned off. Maybe in some sort of homage to Apple, everything is pretty monochromatic. Clockwise from the bottom left you see the USB cable, the Quick guide, the Jetstream tablet in the centre, a stylus which I assume is the HTC Scribe (TM) digital pen, and the wall charger.
What was more intriguing was that they included a stylus. I haven't seen one of those in years, and I kind of wondered why you would want to use one with a tablet. According to the marketing brochure, this is a digital pen that you can use to "...sketch, highlight, take notes and more right on your tablet..." Hmmm, must have missed something somewhere since I didn't see any software that specifically took advantage of this capability.
Exterior Shots
We'll start off with a wander around the outside of the unit before we get hands on with the performance.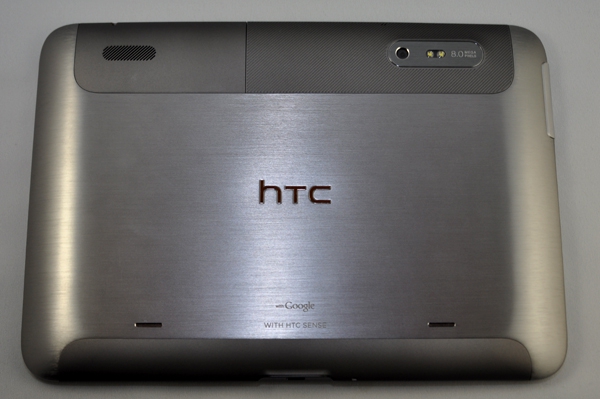 Figure 3: I'll talk about the screen specifically in a following section, so here's the back panel. I'm not exactly sure what the grid in the top left is, since the speaker slots are on the left and right at the bottom. The grey button on the right side near the top is the volume rocker. There's a hidden surprise in the top right. The darker grey panel around the 8 megapixel camera comes off to reveal...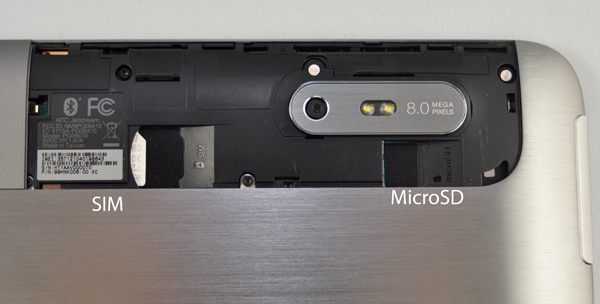 Figure 4: ...Storage for the SIM card (on the left) and for a microSD card over on the right. According to the specifications, the microSD card slot will handle up to 32Gb of extra storage. That coupled with the onboard 32Gb inside the Jetstream (28Gb available) provides a pretty reasonable 60Gb of usable storage.

Figure 5: Here's a shot of the top of the unit. On the left side of the picture is the silver power button, and just to the left of it is the hole for the microphone for recording during video or conferencing.
Figure 6: On the side of the unit (right or left, depending upon how you hold it and screen orientation) is the rocker switch for volume control.

Figure 7: The bottom sports the microUSB (2.0) port for the wall charger or for connecting up to your PC/desktop. I don't know if this is now a standard for tablets, but I was disappointed to see it wasn't the same as the microUSB found on smartphones. So now we have yet another 'standard' interface requiring a different cable.
As with most Android units, the USB port is used mainly for battery charging since there isn't usually a 'sync' capability unless it's provided by a specific application. When the Jetstream is connected to a PC, the storage becomes available as another storage device.
I'm not exactly sure why this happens, but it seems every time we get a new form factor out in the market, we go through a stage where all the manufacturers feel the need to create yet another port interface which is different from (and incompatible with) all the ones we've been using up till now. Is there some reason why the existing microUSB format (or even the miniUSB) can't be used on tablets?
Update: According to Jason, the standard microUSB cables found on most phones will fit into this slot and will charge the unit, albeit a little more slowly, due to lower power availabilities with the older USB standard.
Screen
The screen on the Jetstream is what now seems to becoming the standard 10.1 inches (diagonal measure), with a resolution of 1280x800 and capable of displaying over 16 million colours. HTC describes this as a "Super LCD screen" (I think they're referring to the SuperTwist LCD technology) providing smooth, consistent touchscreen capabilities which provides good response to finger gestures. (Sorry, I couldn't find any apps to really test multi-touch capabilities.)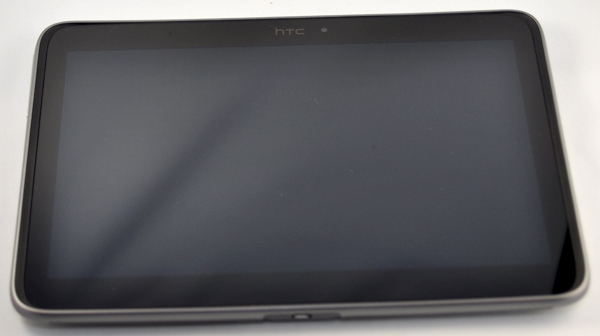 Figure 8: Here's that promised front screen shot of the HTC Jetstream. The screen surface is extremely glossy so it was difficult to get a 'clear' shot and fingerprints show up very readily. You can just see the microUSB port on the bottom edge. At the top of the screen, just to the right of the HTC logo, is the 1.3 mp front-facing screen, which you can use for video conferencing, etc.
Generally, the screen was bright and the colours were well saturated. In outdoor tests , there didn't seem to be enough brightness or contrast to make it comfortable for regular use, especially in medium to bright sunshine. It worked just fine indoors, however.
O/S
The Jetstream comes with Android 3.1 (Honeycomb) installed, with HTC's Sense overlay/interface. I've been watching Sense develop from its earliest incarnations on Windows Mobile 6.5 and it's come a long way. Generally, the interface was very smooth and responded well to touch input. Rogers' main screen interface provides a wide variety of options and widgets for various things to do but, for me, it was just too cluttered and busy. It would have been better for them to group things together a little more coherently. (I wish I could find a screenshot tool for Android that did not require the device to be 'rooted' so I could show you what I mean.)
Overall, the O/S fits in well with the Jetstream, and screen to screen movement and responsiveness was fluid and consistent. There were a couple of times when the system seemed to 'lock up' and not respond to taps or swipes for a couple of seconds, but soon things were back on track. I didn't encounter any situations where I needed to reset or reboot the tablet.
The lock screen (displayed after a certain period of inactivity) includes a 'ring' feature in the centre that you either slide to what you want to do/return to, or that you slide things over to in order to activate them. Jason, our resident HTC expert nowadays, tells me this is a standard feature on HTC's Sense interface, which isn't normally seen on the phone version. It lets you go directly to what you want to do (email vs. apps vs. camera) but I guess I just prefer the simple swipe to open up the screen.
Rogers does a pretty good job of keeping the bloatware to a minimum. For the Jetstream, the only additions were urMusic (Rogers' version of iTunes), MyAccount for Android where you can see the current status of your account (data and voice usage, etc.), Rogers On Demand Online (video On Demand, for those who use Rogers as their cable provider), Macleans magazine, Sportsnet and something called Gameloft, which is a selection of downloadable games.
Keyboard
When text input is required, the Jetstream pops up a 'soft' keyboard display which essentially takes up the lower half of the screen. It's the typical QWERTY keyboard layout, with good sized buttons which seem to be pretty close to the size of a regular keyboard (if not even a little bit bigger). Unfortunately, because the screen is capacitive, you can't really 'rest' your hands on or over the screen as you would if you were trained as a touch typist, since that will activate the keys. (Yes, being an old codger, I was taught to touch-type in high school, which meant gently resting your fingers on the middle row. I think if I ever get a tablet, an accessory keyboard will be shortly following.) Instead, it seems you need to adopt a multi-finger version of the hunt-and-peck method.
Generally input went quickly and accurately, but I wouldn't be comfortable typing a lengthy letter (or review!) using the soft keyboard.
Browser
As this is an Android implementation, one would expect that the latest version of Google's Chrome browser is installed. I didn't get a chance to actually determine the version of the browser installed, but I would imagine Google would update it online as necessary. It seemed to do fine with most websites, although I did find there was a bit of 'lag' and waiting time as pages were loaded. This happened even while I was connected to my home wi-fi network, which doesn't normally show any lag when using laptops or desktops. There were also times when YouTube videos needed to stop and buffer input for a few seconds before they would resume.
I also had difficulty with some sites continuing to download content as if I was running a mobile browser (such as those found on smartphones), even though I was on the tablet. I guess it was some browser setting I didn't get quite right.
Speed Readings
OK, so this is the part I'm sure many of our readers have been looking for. How did the unit perform on an LTE network compared to the more ubiquitous 3G and H networks available?
To run these tests, I used the SpeedTest.net website running over the browser directly on the Jetstream. There was a bit of a problem at the beginning since the website was selecting ISPs just outside of Toronto, Ontario and I was sitting on the west coast! I'm not exactly sure what 'location' information was being used at this point, but with some fiddling, I was able to get it to select sites a little closer to home -- Washington State.
The first test was with the Jetstream connected to my home WiFi via a 'g' connection. It should be noted that generally, Wi-Fi in my home isn't the greatest for speed/throughput since I have central heating and the signal has to travel through various ducts and electrical systems between floors to get to most of the computers. We ran the tests a couple of times to ensure we got 'stable' readings and the average was a Download of 6.69 Mbs and Upload of 0.47Mbs.
Next, we turned off the Wi-Fi and utilized the cellular network. Victoria has very good 3G and H coverage and in my home I normally get 4 bars and an 'H' showing on my phones. On the Jetstream though, the display showed '4G'. I thought that was a bit optimistic, since even with LTE we're not quite 4G technically, but apparently this is being interpreted as H+. In any case, using the 4G network connection, the Jetstream achieved Download of 4.68 Mbs and Upload of 1.03 Mbs. It was interesting the lack of huge difference between my home Wi-Fi and the 4G network (except on upload!).
To test the full capability of the Jetstream on an LTE network, I took the tablet with me to Vancouver. I set up the tablet at my cubicle and saw that the connection icon at the bottom indeed showed 'LTE'. Running the Speedtest.net tests again, the Jetstream got Download of 5.38 Mbs and Upload of 5.00 Mbs. This was surprising, as I was expecting significally better download results than with the 3G/4G network, and at least equal or better than my home Wi-Fi network, but it was good to see a better balance of download and upload capacity. In general use while in Vancouver, I didn't really notice any huge increase in speed or throughput over the Internet. Admittedly I'm not big into video streaming of full-length movies or TV shows, but my experience didn't show me a great advantage to having an LTE connection over what I see with 3G/4G. Yes, things were a little faster, but not enough to make me go 'WOW'.
Radios
GPRS (cellular)
The spec sheet shows the Jetstream supports quad band performance (850/900/1800/1900) on the GPRS bands, tri-band (850/1900/2100) on the HSPA, plus operation on the AWS/700 band for LTE. As described, this model has been specifically tailored for Rogers here in Canada. I'm pretty sure it would also work (technically) with the AT&T LTE network, but you'd have to get an unlocked version.
Generally, the tablet's cellular radio did as good a job as any of the modern cell phones, with the same level of connectability and coverage. I think this '4G' vs 'H' designation is something the networks vendors are doing, since the same thing happens on my recently acquired Samsung Infuse and Focus S. When I got to Vancouver, the LTE connections showed as LTE.
Bluetooth
The Jetstream supports Bluetooth 3.0. The Bluetooth connections seemed to work fine with my stereo headphones, getting reasonable range (about 20 feet or 2.5 m) I didn't bother trying to pair the tablet to the car since there is no 'phone' capability, and hence no 'handsfree' operation. I didn't have a bluetooth keyboard or mouse available to test if HID was supported.
Wi-Fi
The Jetstream suports 802.11 b, g, and n and the tablet was able to connect to my secure home network quickly and easily. Generally, it connected and operated throughout the house, despite having central heating ducts, etc. between the router and almost all the electronics on the main floor. As described in the Speed Readings section above, however, throughput wasn't all that great, since our laptops normally get around 15 to 16 Mbs download and 0.5 Mbs upload. I'm not exactly sure why the tablet was so much slower.
GPS
The GPS receiver in the Jetstream worked reasonably well, taking about 20 to 30 seconds to acquire a location on Google Maps while indoors. This is fairly normal for the current generation of GPS radios, since I get similar responses on my phones. I didn't get a chance to try the location function outdoors, but I expect it would be somewhat better.
FM
For what is billed as a 'media device', I found it a little odd that they had left out FM radio reception from the device. I guess I'm just so used to having it available on smartphones, that it was a bit strange to find there was no FM radio application (nor capability as far as I could tell) on the Jetstream. This being my first tablet unit, I wasn't sure if this was something other tablets have or not. I guess you could always use an Internet radio like TuneIn if you wanted.
Battery
The battery included with the Jetstream is a 7300mAH gargantuan which provides plenty of long-lasting power. It took about 2 to 3 hours to charge completely and then lasted about 5 to 6 days of what I would consider 'moderate' use. Of course, streaming video will burn things up much faster, but it was good to see that we didn't have to leave it on the charger every night.
Camera
There are two cameras on the Jetstream -- an 8mp unit on the back and a 1.3 mp camera on the front. The front one is mainly for video conferencing, etc. I didn't really test this one out. The back camera has a built-in flash and is capable of still photos and 1080p video capture.
I took some pictures inside the house I'm staying in Vancouver, just to give you some idea of how the camera performs with indoor lighting. For phone cameras, this is typically where you'll see them struggle.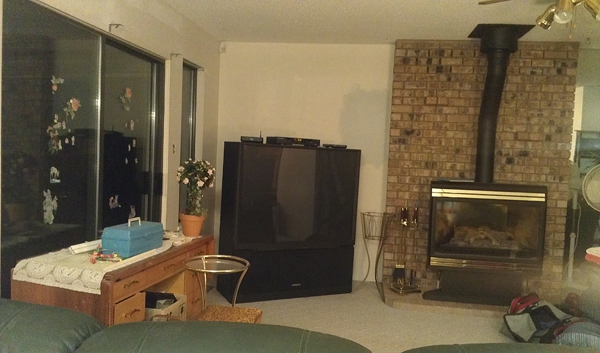 Figure 9: This shot was taken using the back camera with flash turned on. This has been sized down to fit onto the web site display, but the original was 3264x1920, 24bit depth, 72dpi. Unfortunately, the only EXIM data retained was the ISO of 922 and a focal length of 4mm.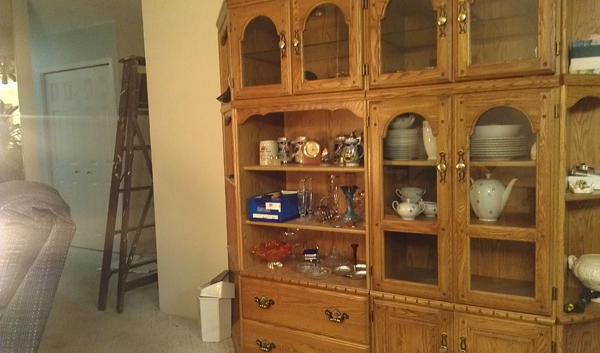 Figure 10: Same room, looking toward another wall, illuminated by incandescent bulbs. Same original resolution and depth. ISO 574 @ f4.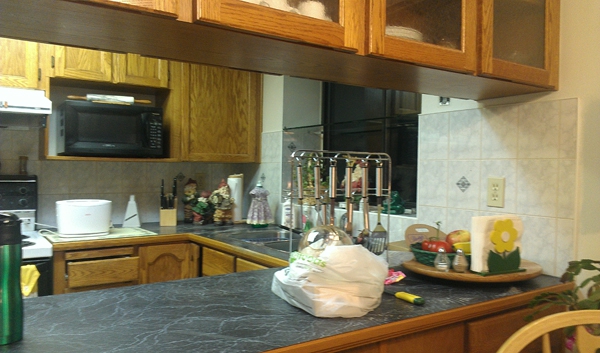 Figure 11: This picture was taken using a fluorescent lighting source -- a mixture of 'soft white' and 'bright white' as the industry calls it. ISO=237, f4.
Notice how all the pictures seem to have a tinge of yellow 'warmth' to them? I'm not sure HTC has quite got the white balance right yet, but you definitely feel the coolness of the light in the last picture as compared to the previous two.
I also tried a very short video capture. The tablet didn't have the right shape or 'bulk' to hold it steady for video, and the sound pickup from the microphone was horrible.
To be honest though, I'm not really sure why anyone would use a tablet as a still or video camera. The form factor is very awkward to hold steady and control exposure, focus, etc. And it would also look really geeky in most situations. (I seem to remember seeing a YouTube somewhere of someone trying to take a wedding video/photo in the church with his iPad. :-0) It might be okay for 'emergency' situations (You're holding your tablet when the 'big one' hits) or you just have to capture that 'special' moment, but I think I'll stick with a DSLR and a video-cam.
Audio
Well, what can we say? The stereo speakers on the Jetstream are marginally better than single speaker we get on most phones, but that's still not saying much. It's kind of like listening to those very early transistor radios with the standard 1.5 inch single element speaker. You don't get much high or low range response, just a lot of midrange. They'll do when you are just browsing the internet and watching the occasional show or video, but if you want to listen to music or a movie, I'd suggest investing in a good set of earphones or headphones.
Video
I checked out the Jetstream using our usual testbed of video samples and it handled all of them easily -- displaying all the different formats available smoothly and perfect sync between audio and video. My sons gave it a run on their video feeds (my wife and I prefer to watch the 'old style' television :-). They noticed it took a little longer to get started than on the media PC and there was a little jittering, but nothing that made it unwatchable. The couple of YouTube videos I watched had to buffer a couple of times in the middle, but overall the quality of the video display was very good. It does make a huge difference being able to watch on a 10 inch screen over a 3.7 inch one!
Conclusion
Overall, this is a nice tablet with the kind of quality I've come to expect from HTC. It's solidly built, works well, and has the features most expected in a tablet. I was a little disappointed by the underwhelming LTE performance, but maybe that was part of the network, rather than the tablet itself. For the price, I was hoping for a better alternative to our laptops for media browsing.
Don is a senior architect with Fujitsu, specializing in security, privacy and mobile applications. Living in beautiful Victoria, BC, on the west coast of Canada, he has been playing with, using, and reviewing mobile devices since the very early days of the Sharp Wizard.

Do you enjoy using new hardware, software and accessories, then sharing your experience with others? Then join us on the Thoughts Media Review Team! We're looking for individuals who find it fun to test new gear and give their honest opinions about the experience. It's a volunteer role with some great perks. Interested? Then click here for more information.

__________________
/drt