Go Retro With Your iPad Dock
---
"You were probably born too late to have purchased one of the first computers out of Apple -- the original Apple I. This machine came as a set of completed circuit boards that you had to build your own case for. Many early owners of the US$666.66 computer used wood for the case, since it was cheap and easy to work with."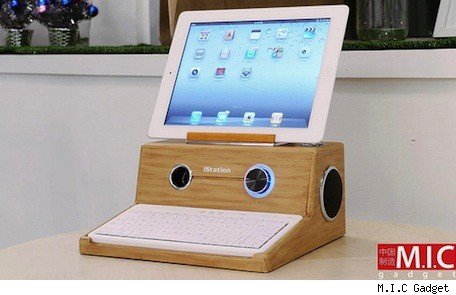 So if you like wood and wan't a sort of cheap dock for your iPad, then the iStation Dock might be right up your alley. It retails for $85.90 USD from M.I.C. Gadget and comes with speakers and a Bluetooth keyboard. You can also get a white version if you don't like the wood look.
__________________
iPhone 4, 1.6 GHz Core 2 Duo MacBook Air, Apple TV, 2.66GHz Intel C2D Mac Mini, 1TB TC, Airport Extreme,several iPods and an iPad, 32GB Wi-Fi version.
Follow me
on Twitter.