Android Has Fixed Fragmentation! Well, Perhaps Not...
---
"Google recently announced it was going to put an 18 month upgrade requirement on any handset that wants to be Google-certified, meaning if you buy a handset today, you're guaranteed OS updates for 18 months."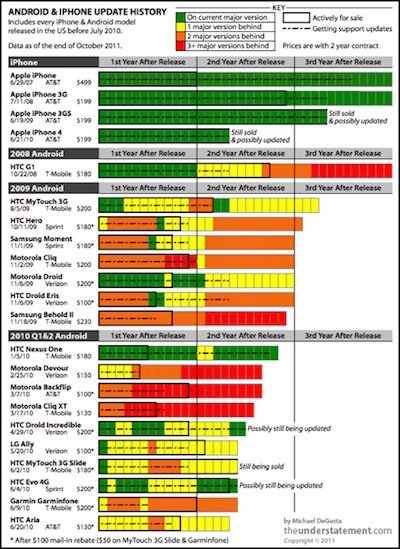 A different philosophy indeed! I understand why the hardware manufacturers don't want to push out updates so that people will buy new phones to get the new goodies, but that certainly isn't a very good model if you want to retain customers. Apple is in the hardware business too, but they don't have a problem getting out updates that work on their older handsets, as evidenced by the chart above. Who do you think has the customer's best interests in mind? I know who my money is on, but what are your thoughts?
__________________
iPhone 4, 1.6 GHz Core 2 Duo MacBook Air, Apple TV, 2.66GHz Intel C2D Mac Mini, 1TB TC, Airport Extreme,several iPods and an iPad, 32GB Wi-Fi version.
Follow me
on Twitter.