TI Projector for iPhone 4, Available at Brookstone
---
"Electronics giant Texas Instruments (TI) and specialty retailer Brookstone have announced the Pocket Projector for iPhone 4, a case for the iPhone 4 and iPhone 4S that incorporates TI's Pico projector technology to offer on-the-go video projection."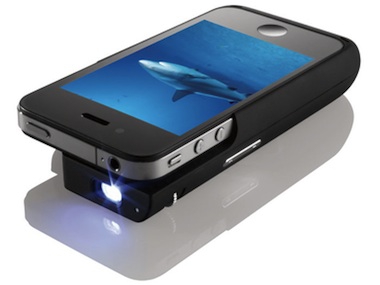 Interesting concept case, that is in actuality a projector for you road warriors. You really need a dark room for it to be effective, but if you want to downsize your bulk, this looks like a pretty good option. You can preorder yours from Brookstone now.
__________________
iPhone 4, 1.6 GHz Core 2 Duo MacBook Air, Apple TV, 2.66GHz Intel C2D Mac Mini, 1TB TC, Airport Extreme,several iPods and an iPad, 32GB Wi-Fi version.
Follow me
on Twitter.