Kindle Fire Creating Switchers Amongst Manufacturers?
---
"Amazon did more than just throw down the gauntlet when it announced its $200 Kindle Fire tablet, the e-tailer may have also scared off some of the competition altogether. Oddly enough, the Kindle Fire might actually help Microsoft increase its presence in the mobile market, as OEMs look to Windows 8-based slates in order to avoid a price war among Android tablets."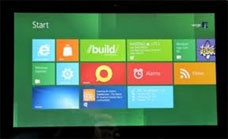 Interesting conjecture, that rather than trying to continue to compete in the cut-throat Android tablet space, some manufacturers are considering switching to (building) Windows 8 tablets to target more "business" customers. RIM tried this with the PlayBook, but with a product that was great in concept, but short on execution. Even current Android tablet makers are cutting prices to try to compete with Amazon. But $199?
Dell and HP are two manufacturers mentioned by name, with Dell maybe a real possibility, but HP seems to have totally lost credibility in the market with the TouchPad debacle. Months back, I ordered an HP Slate 500 tablet running Windows 7 when it was announced, but gave up and cancelled my order after they couldn't deliver a tablet more than two months after it was supposedly shipping. And, it was $799, not $199.
The Kindle Fire is going to be a game changer, if Amazon can meet the demand. I've got an iPhone and an iPad, but I ordered one, just because.
__________________
"Not everything that can be counted counts, and not everything that counts can be counted." Albert Einstein