Playing 'Smarter' with the Samsung BD-D6500 3D Blu-ray player
---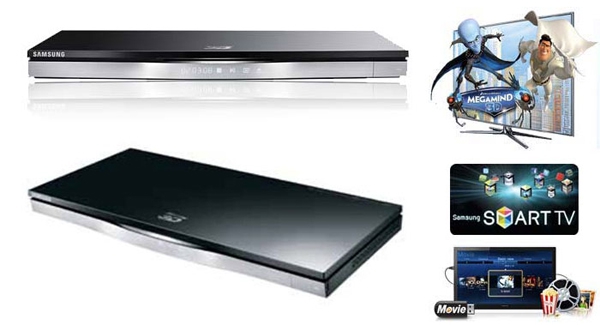 Product Category: Internet connected Blu-Ray player
Where to Buy: Amazon [affiliate]
Price: $199.99USD, but on special for $114.95
System Requirements: Plays Blu-Ray, 3D, DVD +/-R(W), CD DA, CD-R(W) discs
Specifications: Dimensions - 17in (430mm) x 8.2in(209mm) x 1.3in(33mm); Weight - 3.8lbs (1.7kg); Outputs - HDMI, Component Video, Composite Video, Optical Digital Audio (Dolby/DTS 7.1), Analog Audio (2ch).
Pros:
Small, compact and light;
Plays just about any type of video disc;
Internet capable, via wired or wireless (b, g, n) LAN.
Cons:
Not able to easily connect/share with other network PC's;
Limited content available in Canada;
Only cable provided is for 2 ch stereo and composite video.
Summary: When Samsung first approached us about doing a review of the BD-D6500, I was very excited about the fact that here was a Blu-Ray player with built-in Wi-Fi connectability. The stars in my eyes forsaw a possible replacement for my big, bulky media PC -- using this player to access all the music, video and pictures on my home network -- as well as having a really cool, sleek blu-ray/DVD player. Did it work? Let's take a look...
The Hardware
As you can see from the specs, the BD-D6500 is following the footsteps of most of the current selection of blu-ray players in being small, thin, and very light. What set this one apart for me was that it was the first I had heard of (OK, I don't spend THAT much time browsing the local Best Buy's, etc) which had Wi-Fi and internet connectability built in. Here I thought might be a small, compact replacement for my media PC, which would allow me to have the latest blu-ray player, 3D capability for the future (if I ever decide to go that route), and access to the videos and music stored on my home network.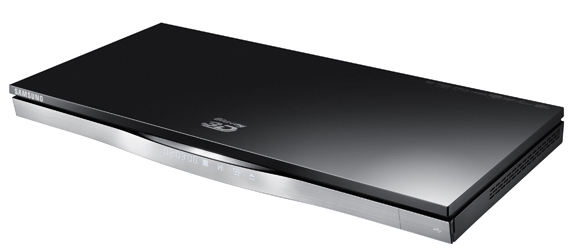 Figure 1: A shot of the Samsung BD-D6500 unit. In the centre of the front, you can just barely see the display and touchpad controls for the various functions. On the right is a fold-down door to reveal a USB port. [Photo courtesy of Samsung Canada]

Figure 2: Here's a look at the back panel. On the left is the optical audio output (Dolby Digital DTS 7.1), then the standard ethernet jack (should you decide to hardwire the unit to your home network). In the centre is the HDMI output, followed by the Component Video (Red, Greed, Blue), 2 channel audio (Red and White) and composite video RCA output jacks.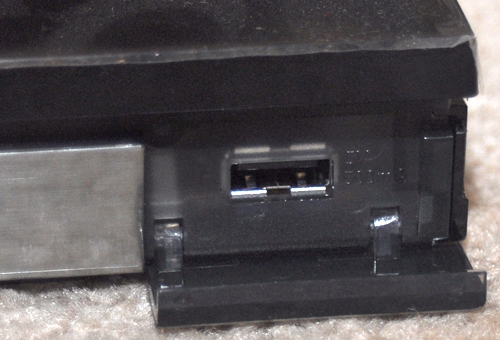 Figure 3: On the right side of the front panel behind a flip-down door is a standard USB jack. According to the manual, this is used for interconnection to a PC for downloads of firmware upgrades, etc. but the markings on the jack (just to the right, it says 5V 500mA) seem to imply you could use this to power another device.

Figure 4: The remote supplied by Samsung uses two AAA batteries for power (supplied) and, of course, has enough buttons to run everything you could possibly connect with the unit. I have a Harmony remote so I don't usually fuss with trying to reprogram these things. Note the SmartHub (coloured) buttons and the Netflix button (Red) at the bottom.
Setting things up
I wanted to be sure to check out the full capabilities of the BD-D6500, so I was determined to use the HDMI output as the main connection to the rest of the setup. At the time, I was also reviewing the Samsung HW-D550, so I knew the HDMI to HDMI connections would be much simpler than having to worry about separate audio and video connections. Unfortunately, Samsung cheaped out a bit in the cable department. The only cable supplied with the unit is a combined 2 channel audio + composite video one -- hardly suitable for reviewing the capabilities of a 1080p 7.1 DTS blu-ray player! The HW-D550 uses mini-HDMI jacks for input and I didn't have any HDMI to mini-HDMI cables lying around, but a quick check of eBay found a relatively close supplier of a couple for $10 so, when those arrived a few days later, I was all set to go.
Playing Movies...
So, first things first. How well does it do it's main function -- playing movies? After powering on the unit, it took only about 3 seconds before it was ready to go. Although the marketing shots don't show it very well, there are touchpad controls and an information display built into the chrome rim on the unit, just below the disc slot.

Figure 5: A shot of the front display/controls panel just below the disc slot. The controls are all touch sensitive. From left to right are: power on/off; information display, stop, next chapter, enter (for menu selections), and eject. When the unit is turned off, this disappears completely, leaving a very clean appearance.
As far as playing Blu-Ray and regular DVD's is concerned, the BD-D6500 did quite well. Blu-Ray discs started up quickly and played to their full capability (depending upon what they were recorded at) with clear pictures -- even on my 1080i display -- no jittering and full 5.1 channel sound. (Sorry, I don't have a 7.1 unit just yet :-)) I wasn't able to test out the 3D capability because I haven't upgraded my TV just yet. Somehow, I just can't get into wearing those glasses all the time. DVDs, both commercial and homebrew, worked just fine as well. In fact, it appeared as if the BD-D6500 was attempting to up-convert the video to 1080. I can't be sure though, since there's no specific mention of this capability in the manuals or brochures.
I also tried some music CD's (commercial and MP3) and these played perfectly. The interface Samsung provides on the screen is a bit spartan (nothing like Zune or iTunes), but certainly serviceable.
Connecting to the Internet
So now came the part I was most looking forward to: connecting the BD-D6500 to my home wi-fi network and the internet. Here was where I was going to find out if this truly could be a media centre for my family.
As you can guess, most of the user interface for online connection and access is through the attached TV/monitor. The small information display on the front panel just isn't going to cut it.
I won't bore you with a lot of screenshots showing how to connect to a local wi-fi network, but suffice to say it was relatively simple and straightforward. It located and connected to my home 'n' network very quickly.

Figure 6: The front panel display lets you know right away when you are 'connected' to the Internet.
Funnily enough, the first thing my BD-D6500 did once it found the internet was to notify me of a new version of the firmware for the unit! After clicking 'OK', it proceeded to download and install the latest version of the BC-D6500 software. The whole process took about 5 minutes and the unit restarted itself after it was completed.
When you get connected, the Samsung software automatically starts up with the player. Below is a screenshot of the 'SmartHub' portal.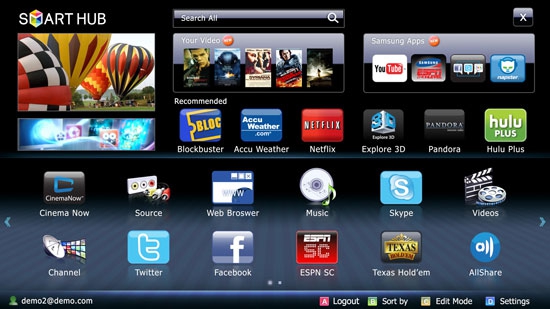 Figure 7: A screen shot of Samsung's SmartHub portal. As you can see, there are a lot of different options, but a number of them weren't available to me I'm guessing because I'm located in Canada. Examples include Hulu, Blockbuster, CinemaNow, Source, and ESPN SC.
I was able to get some of these connections working -- such as Twitter, Facebook, YouTube, and the BBC News feed, but a number of them either wouldn't connect or specifically came back with messages saying that the service wasn't available outside of the US. :-(
Then I tried to find and connect to the other desktop computers in the house, where my music and videos are stored. There are two -- the 'office' computer, where we keep backup copies of the digitized music and raw video I'm editing, and the 'media' centre, which runs the cable signals, music library and commercial video (downloads, etc.) for entertainment. Both are on the same Wi-Fi network, run Windows 7 Home Premium and have sharing enabled within the Windows HomeGroup.
Unfortunately, this is where things started to fall apart. Normally, I don't have any difficulty finding and connecting to these units, but the Samsung just didn't seem to want to do that. It could definitely see them on the network, but any time I tried to connect, the BD-D6500 would come back saying 'Can't Connect' or 'Service Not Available'. After about 2 hours of playing with various settings, etc. and reading through a not very helpful user manual, I gave up. Clearly, interconnectedness was intended for access to the internet -- not to file sharing or streaming. I was disappointed since it seemed from the documentation that this is something it was clearly supposed to do, but no matter what I tried, I just couldn't get it to play music or videos across the network. Too bad, since for me, this would have been the killer capability.
Conclusion
I really love the form factor of the BD-D6500 and with the current price (around $115USD), it would be a terrific option to remove some bulk and replace my media PC in the living room. It plays all kinds of discs beautifully, without any skips or problems and the video and audio output are terrific. Unfortunately, without the ability to access and play music and video over the network, there just isn't an advantage for me right now. Maybe I'll have to head up to the local electronics emporium and see if there's something else available that will do the trick.
Don Tolson is a Senior Solution Architect for Fujitsu Consulting Canada, specializing in Security, Privacy and Mobility. He's been reviewing gadgets and new software for ThoughtsMedia for almost 10 years now, and will DEFINITELY miss Jason. It's been a joy and a privilege working with him over the years.

Do you enjoy using new hardware, software and accessories, then sharing your experience with others? Then join us on the Thoughts Media Review Team! We're looking for individuals who find it fun to test new gear and give their honest opinions about the experience. It's a volunteer role with some great perks. Interested? Then click here for more information.

__________________
/drt