Surrounding yourself with the Samsung HW-D550 Audio Bar
---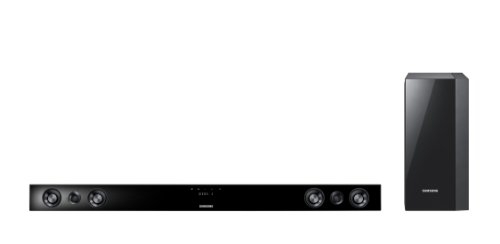 Product Category: Home theatre audio
Where to Buy: Amazon [affiliate]
Price: $499USD (regular, but now on special for $310)
System Requirements: wall power for both the sound bar and the sub woofer unit; digital audio (HDMI / optical) or analog sound source.
Specifications: Dimensions: Soundbar - 1056mm(41.6in) x 80mm(3.15in) x 45mm(1.77in); Subwoofer - 178mm(7in) x 360mm(14.2in) x 295mm(11.6in). Weight: Soundbar - 2.06kg(4.5lbs); Subwoofer - 5.3kg(11.7lbs). Power (total): Soundbar - 2 x 80W; Subwoofer - 150W. Total Harmonic Distortion - 10% at reference. Frequency Response: 20Hz - 20KHz.
Pros:
Compact unit which can be easily wall mounted under the TV screen;
Wireless Subwoofer can be placed anywhere without cables showing;
Multiple audio inputs available (and selectable with the remote) to allow this to become the audio 'hub' of the home theatre.
Cons:
Only two HDMI inputs;
Midrange is emphasized a little too much (for me);
'Surround' sound is more reverb/delay than actual repositioning via sound processing.
Summary: For a guy who is used to a separate amp, speakers and tons of interconnecting wires, working with an 'all-in-one' sound unit like the Samsung HW-D550 was quite the treat in some respects. But how does it compare where it counts? How does it sound compared to the separate components? All-in-all, it wasn't spectacular, but not too bad. Let's take a closer look and listen....
The Hardware
The HD-D550 Audio Bar comes as two separate pieces -- the midrange+tweeter unit and a standalone wireless subwoofer.
The midrange+tweeter unit contains the amplifiers, inputs, outputs, and controls for the Audio Bar. It's a little on the heavy side, as can be expected, but certainly light enough to be wall mounted, as is the suggested installation.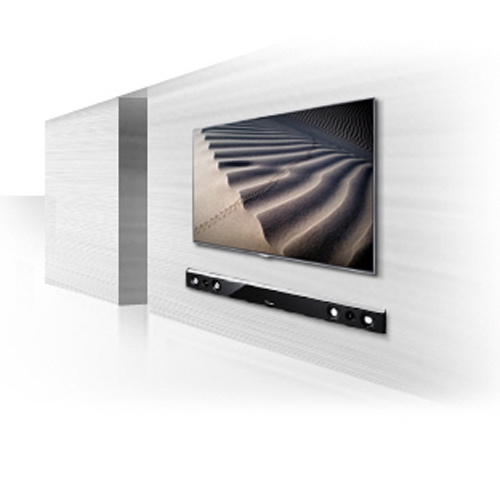 Figure 1: Samsung's suggested installation of the HW-D550 Audio Bar, wall mounted beneath a 46-inch flat panel TV. As described in the marketing material, "Now you can get rid of your entertainment centre." Grand Piano for the reflection is an optional extra :-) [Photo courtesy of Samsung]
For me, I just put it underneath my Akai plasma monitor, on top of the entertainment centre, where it was quite happy.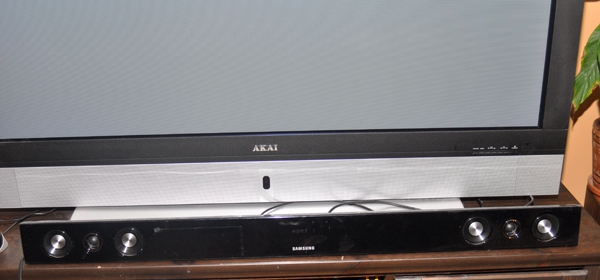 Figure 2: Not having an available wall space to mount the unit for the review, I placed it just under my Akai 50 inch plasma monitor. Sorry, I had to leave the protective wrapping on, since I don't get to keep this after the review. Here you can see the left and right speaker clusters with the controls and display in the middle.
The midrange+tweeter unit is about 42in (1055mm) long (about the same length as a 46in flat screen) and consists of left and right speaker clusters of 3 speakers -- two midrange and one tweeter unit.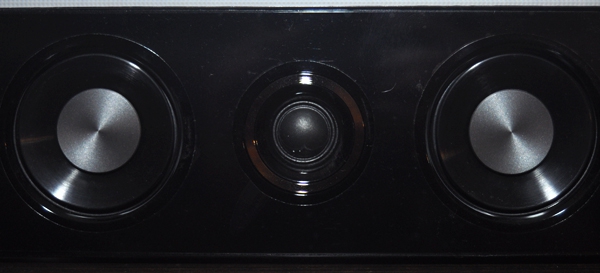 Figure 3: Here's a close up of one of the speaker clusters. The midrange units are on the outside and the tweeter unit is in the middle.
The midrange speakers are about 76mm(3in) in diameter and the tweeter is about 51mm (2in). Each cluster has a total output capacity of 80W, according to the specs. If I remember correctly, 'total output' is a marketing way of saying "this is about all it can handle at peak, so don't go there too hard or too long" (Oh, for the good old days when audiophile equipment would be measured in RMS power, which is what it would take on a continuous basis). I didn't push the review unit too hard, but at 25 (out of 99?) it had enough oompf to fill the room.
All the input and output jacks are on the back of the unit. They are contained in recesses in the back panel, so that the unit can sit flat against the wall. However, this makes them a bit tight to access if you have larger fingers.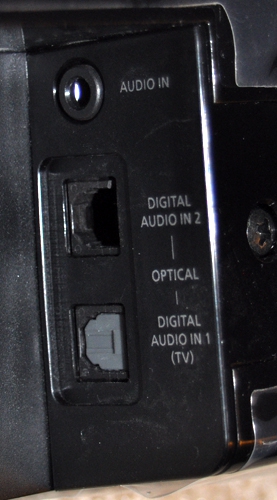 Figure 3: Here's a shot of the audio inputs. At the top is the 3.5mm phone jack for the analog input. Then below are the two optical digital audio inputs. I'm not sure why the bottom one (Audio In 1) is marked as 'TV', since it doesn't really seem to make a difference.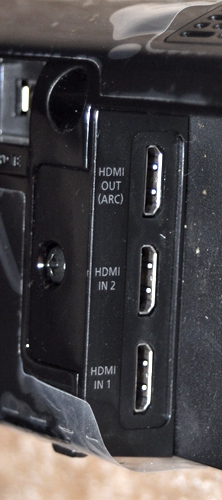 Figure 4: In another recess are the HDMI audio/video inputs and outputs. These are HDMI 'mini' jacks, so you might need to invest in extra cables to connect this up. The top one is the only HDMI output available, and there are two inputs.
There are 5 audio inputs -- 2 mini HDMI, 2 optical digital audio, and 1 analog audio via a stereo 3.5mm phone plug (yuk). I would have preferred to have the usual RCA phono for the analog audio, but I guess there were space constraints. At least the supplied cable is for the analog signal input. Samsung doesn't provide any HDMI or optical audio cables with the Audio Bar for input. Fortunately for me, I had lots of cables hanging around (remember I said I was used to interconnecting lots of things? Remember the description of my media centre?) The ones I didn't have in stock were HDMI to mini-HDMI, but a quick search of eBay turned up a couple for less than $10 so, once they arrived, I was good to go.
There is only one HDMI output supplied -- for hooking up the monitor/TV I would suppose. Samsung does provide a mini-HDMI to HDMI cable to connect up to your TV. Although it does provide ARC audio play through, I'm not sure you'd want to have this output going to another audio unit.
Hooking up everything was amazingly easier using HDMI. Up till now, I hadn't really appreciated how convenient it was having a single connection for both video and audio. Unfortunately, only having two HDMI inputs limited the amount of stuff I could connect -- just the media PC and the BD-D6500 Blu-ray player (see other review) -- but it was good enough for this review.
In the centre of the midrange+tweeter unit are all the controls. You can miss them when the unit is off, since they are surface touch controls with back illumination which only comes on when the power is applied. When I first set up the unit, I thought I had to use the remote to activate power, input selection, etc. It was actually my wife who discovered that the control panel was touch sensitive. (Good idea, Samsung!)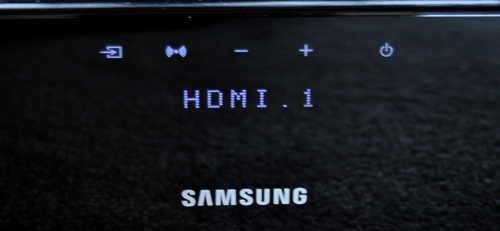 Figure 5: Here's a shot of the centre display/control panel of the Audio Bar. (Darn those glossy black finishes!!!) In the centre, you can see the display of which input is currently selected. Above that are the operating controls for the HW-D550. From left to right, these are Input select, 3D Surround Sound on/off, Volume down, Volume up, and Power.
The remote provided is a fairly simple affair and doesn't take a lot of time to figure out.
Figure 6. The remote provided with the Audio Bar is pretty straightforward and easy to use. As you can see from the buttons, it is able to control the basic functions of the TV as well.
The keys are well labelled and spaced appropriately. Range seems to be about 15 feet (4.5m). It's powered by two AAA batteries, which Samsung supplies.
The subwoofer module is a heftier cube, about the size and weight of a good quality bookshelf speaker system. It has a rating of 150W total power, which is needed to provide enough oooomph to balance the midrange+tweeter bar. It's wireless, using the same frequencies as the Wi-Fi network in your home, and automatically switches channels and bands to find one that's interference free. The big advantage of having the subwoofer wireless is that you can place it anywhere that makes sense and is convenient for you, without having to worry about stringing wires or having them visable. The subwoofer unit does require its own power, however, so you'll have to find within the standard 6ft (2m) of a power outlet. My suggestion would be to place the subwoofer on the floor and somewhere near the TV/Monitor, since, although bass is largely omnidirectional, having it originate from behind or beside you can be a bit weird when the Monster Truck is roaring through the monitor in front of you.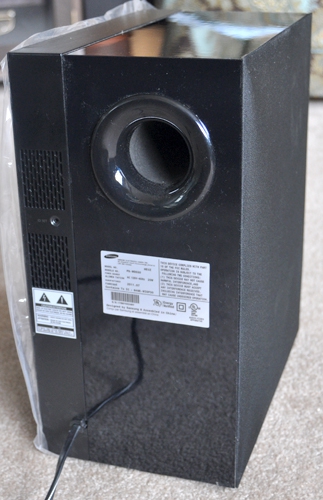 Figure 7: This is actually the back of the subwoofer. I used this shot since the front is basically a flat panel -- pretty boring. Here you can see the vented bass port used to supplement the actual speaker element. There are small LEDs on the top of the unit to tell you when the power is applied and it has successfully connected with the Audio Bar.
So, how does it sound?
All in all, the sound from the HD-D550 Audio Bar is not too bad. Although the 10% THD is a bit higher than what I'm used to, for TV watching it is very tolerable. The midrange+tweeter combination is a bit 'bright' and overemphasized for my liking, but that's in comparison to my paired dual-element ported bookshelf speakers which are standing on the floor. This tends to soften midrange a bit, so I wasn't used to hearing quite the 'presence' the Samsung provided. It might sound different if it were mounted to the wall.
The subwoofer did a pretty good job of filling out the bottom and there was no apparent delay caused by the wireless connection. The low end of the bass wasn't quite as solid as I'm used to with my bookshelf speakers but, together with the midrange unit, it was very listenable -- competent, but not amazing.
Samsung markets the unit as having digital sound processing which provides a '3D audio depth' with virtual surround sound capability. This is what intrigued me the most at first and triggered my desire to do this review. I was hoping that Samsung had captured/copied some of the audio engineering Bose has pioneered in being able to make it 'seem' like sound was coming from different parts of the room. Unfortunately, not quite. There are a number of 'programs' available on the HW-D550 as well as 3D sound processing. The programs are mostly just combinations of frequency response tailoring mixed in with some phase shift and/or reverb (hence, I think, the need for two mid-range speakers for each of left and right clusters.) The vitural surround sound seems be a mix of delay and reverb which didn't really change the originating direction of the sound. I still knew it was coming from the front -- it just sounded like I was in a bigger, empty hall.
It also incorporates a 'Smart Sound' feature where it will automatically adjust the sound level between inputs to ensure they come out at the same level. I turned this off very quickly, as the automatic adjustments were getting annoying and the selected 'level' wasn't right for us.
Conclusion
Would I get one of these? For the price currently on Amazon ($310USD) it certainly would be a consideration for TV or casual/entertainment movie watching. The compactness of the unit and simplicity of installation are major bonus points for me. However, for more serious music listening and/or full-blown gut renching home theatre gaming/movie watching, I think I'll stick to the component pieces for now.
Don Tolson is the lead Solution Architect for Fujitsu Consulting in Canada, specializing in mobile technologies. Years ago, he was that teenaged kid that was always building new speaker enclosures and trying to buy bigger speakers and amps to blow the windows off his basement bedroom. Since then, his dear wife has convinced him that he just needs to buy a REALLY GOOD SET of headphones:-)

Do you enjoy using new hardware, software and accessories, then sharing your experience with others? Then join us on the Thoughts Media Review Team! We're looking for individuals who find it fun to test new gear and give their honest opinions about the experience. It's a volunteer role with some great perks. Interested? Then click here for more information.

__________________
/drt