iOS Market Share Still Increasing
---
"Net Applications has come out with new numbers showing mobile OS market share."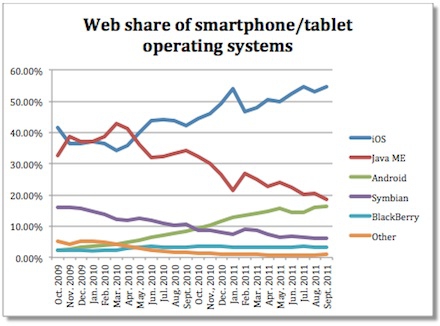 You can see a little dip there in February of 2011, but iOS is back on the rise, and the only other one on an upward course is Android. While not as steep, a rise just the same. I think the other ones should just give it up. I doubt they are going to be around much longer anyway if this keeps up. What are your thoughts?
__________________
iPhone 4, 1.6 GHz Core 2 Duo MacBook Air, Apple TV, 2.66GHz Intel C2D Mac Mini, 1TB TC, Airport Extreme,several iPods and an iPad, 32GB Wi-Fi version.
Follow me
on Twitter.