ASUS Eee Pad Slider Review
---
"While most Android tablets make due with a touch keyboard, for many typists a set of virtual keys just doesn't cut it. It's for these users that ASUS has designed the Eee Pad Slider SL101, the first 10-inch Android tablet with a slide-out QWERTY keyboard. The $479 Eee Pad Slider also features a bright IPS screen, a full-size USB port (for attaching a storage drive or mouse), and a sleek soft-touch chassis. But do these goodies justify the 2.1-pound weight? And just how good is the typing experience?"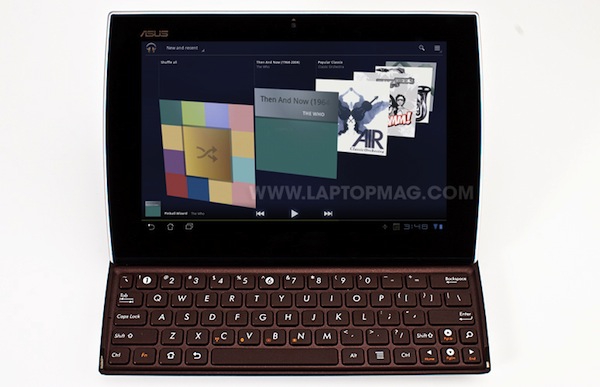 For those that prefer physical keyboards, ASUS has heard you! The Eee Pad Slider is larger and heavier than both the Samsung Galaxy Tab, and the ASUS Eee Pad Transformer (without the keyboard), but add a keyboard and the Slider is lighter. The wide bezel around the glossy IPS screen allows for a larger (but still smaller than a netbook) keyboard, and includes dedicated numeric keys. It is also possible to attach a mouse to better approximate a laptop. One point to note is that there is no palmrest, so support for the wrists is lacking, and no built-in pointing device.
If you do a lot of text entry, this is a good tablet choice, but if not, there are better (lighter, and less expensive) options.
__________________
"Not everything that can be counted counts, and not everything that counts can be counted." Albert Einstein