The HTC Rhyme Goes for Form Over Function
---
"Available in a female-friendly Plum for Verizon customers, the Rhyme has clean lines and a nice soft-touch back. HTC tweaked the Sense interface to make it more open and friendly, relegated the clock to the bottom right corner and adding dynamic shortcut icons to the home screen."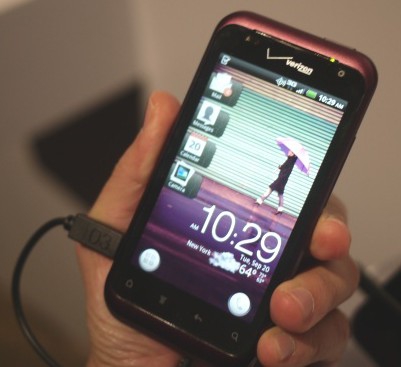 The Rhyme is not a bad phone at all actually. It's not for me but for a phone that's not supposed to be high-end it's got very reasonable specs. It has a 1GHz CPU with the Adreno 205 GPU, 3.7" 480x800 SuperLCD, 768MB of memory, and 4GB of built in storage. It comes with an 8GB MicroSDHC card as well for additional storage. It also comes with Gingerbread (Android 2.3.x) which is expected by now. The front facing camera is only VGA and the rear camera is 5MP but honestly they should work as well as the cameras on most other phones for general use.
What sets the Rhyme apart, and may make the $200 it costs worth the money, are the tweaks to the HTC Sense interface and the included accessories. The interface, among other things, includes slide out drawer-like widget icons. I think this is a cool idea though really it's not much different then folders I guess. It does look cooler to me. As far as accessories go the Rhyme includes a dock, tangle-free ear buds with in-line controls, and a funky notification dongle/charm thingy. The charm plugs into the earphone jack and flashes when you get calls or other notifications. See the video in the source article (click the "Read" link below) for a demo of the charm working. I think the notification charm is a cool idea but should have been done with Bluetooth. Of course then you would have something else to keep charged. It will be interesting to see if owners find the notification charm useful or useless just because it's too much of a hassle to plug in all the time. I'd love to hear what you think of this new phone from HTC!