Introducing Windows 8 Ultratablets
---
"This week we have warring conferences as Microsoft and Intel scheduled their developer events on top of each other. This means there are a massive number of us trying to be in two places at once, mostly unsuccessfully."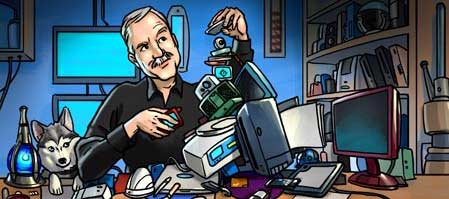 Intel and Microsoft are trying to hasten the evolution of the transportable computer by melding an ultralight laptop and a touchscreen tablet. Windows 8 aims to kick-start things on x86-based Ultratablets by running both the new Metro UI (touchy-feely) for tablet-style apps, and a traditional desktop for legacy Windows apps. ARM computers (tablets) will be limited to Metro UI style apps (no legacy Windows) at least until legacy apps are ported. In the Apple world, this is analagous to Mac OS X gaining the ability to run iOS apps, along with OS X, while iOS devices can run only iOS (not legacy OS X) apps.
Assuming that the big brains can get this all right, we'll see Ultratablets with a great touch interface (but also a keyboard), long battery life, under $1000, with the power to run any (type of) apps. So no more laptops that are great content creators but lousy content providers/consumers, or tablets that are lousy content creators but great content consumers. One device that meets all these needs, the Ultratablet - isn't this what we're all hoping for?
__________________
"Not everything that can be counted counts, and not everything that counts can be counted." Albert Einstein