Get Some Free Bonus Minutes From AT&T
---
"Great news if you are a big talker and have an iPhone on the AT&T network. AT&T has started sending out text messages offering you 1000 free rollover minutes. All you have to do is reply with the word "Yes" and the extra minutes will be added to your account."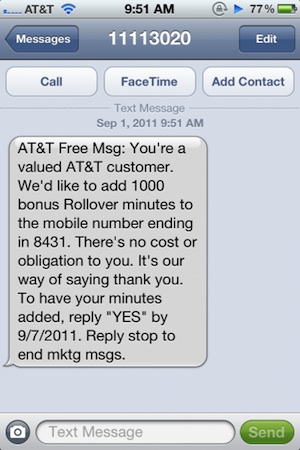 I tried this, and got back a message thanking me for responding and advising me they would send confirmation as soon as my account was validated. So who knows if it works, but it is worth a try.
__________________
iPhone 4, 1.6 GHz Core 2 Duo MacBook Air, Apple TV, 2.66GHz Intel C2D Mac Mini, 1TB TC, Airport Extreme,several iPods and an iPad, 32GB Wi-Fi version.
Follow me
on Twitter.