Vonage's Time to Call App: 15 Free Minutes, International Calling and a Free iPad 2!
---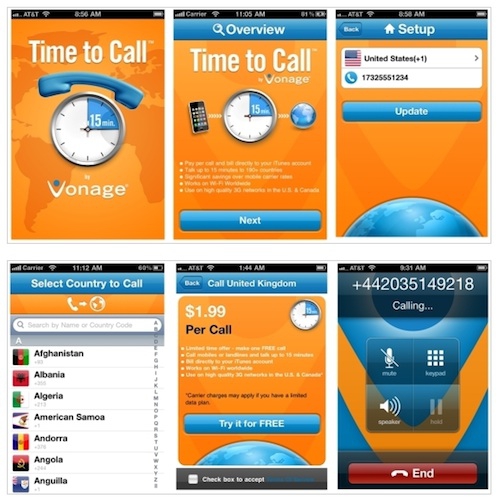 Time to Call is a free app from Vonage, that lets you make phone calls (including international calls) from your iPhone or iPad 2 at very affordable rates. And as a bonus, they are giving you 15 minutes of calling time when you download the app using this link. The cool thing about this app is that it uses your iTunes account to pay for the minutes, so you don't have to mess around with calling cards or getting an operator involved. All you do is make the call and it will subtract the charges direct from your iTunes account. The rates are pretty reasonable too as outlined in the details below:
Pay per call and talk up to 15 minutes to 100 countries for $1.99 or less (not including taxes)
For an additional 90+ countries, talk up to 15 minutes for $2.99 to $9.99 (not including taxes)
Works on WiFi internationally, 3G in the US and Canada
FREE download - No need to be a Vonage home customer
LIMITED TIME OFFER: Download now and call up to 15 minutes for FREE.
If you go to the Vonage site, you can easily find out how much your 15 minutes of calling time will be as it is based on the country you are calling. Simply select the country from the drop down list and it gives you the cost in US Dollars. Pretty simple. For example, calling Argentina will set you back $1.99 USD for 15 minutes of calling time, of course that is not including the 15 free minutes you get just for downloading the app. And make sure to read on to find out how to win an iPad 2 from Vonage as part of their promotion for the new app.
Using the app couldn't be simpler, but I think I will let the below video tell the story.
I can definitely see the advantage of this app if I needed to make international calls, but it also has the ability of being able to call in the US as well if you are limited on your regular minutes. And keep in mind, once you make the call, and if you don't use up the 15 minutes, they are saved for the next 12 months so it isn't like you have to use all 15 minutes with each phone call. They certainly couldn't make it any simpler, and now on to the best news of all. Vonage, is giving away numerous iPad 2s to promote this new app, so read on after the break to get the details on how you can win a 32GB iPad 2.
Ok, so here is the lowdown on the contest. You can enter in two ways:
Go to our Facebook Page located here, "Like" the page if you haven't already, and post a comment with a link back to this page or;
Tweet the contest on Twitter referencing a link to this page, and make sure to include @TMAppleThoughts in the tweet.
Once you have done either of those, come back to this page and post a comment telling us which method you used to enter. The contest ends on Saturday, September 3rd at Noon, Pacific time. Winner will be chosen randomly from the replies to this post, and notified in our forum. If you aren't a member of the forum, make sure you join now and turn on notifications so you don't miss the message. If you don't reply within 48 hours to the message with your name and mailing address, we will move on to the next person drawn. Good luck!
Pretty simple eh? This contest is open to EVERYONE, including INTERNATIONALLY. If you win you will get an iTunes Gift card from Vonage in the amount of $700.00 USD, as well as a $15.00 iTunes Gift Card to give you some extra calling time. If you don't have iTunes availability in your country, Vonage will give you the cash equivalent in the form of a PayPal payment.
You can also enter the contest at any of the following sites:
Good luck and remember you can enter on any of the sites, or more than one site, but you can only win once.
Jeff Campbell is a geek, loves all things Apple and lives near the base of Mt Hood in Oregon with his teenage daughter and 3 legged cat named Tres.

Do you enjoy using new hardware, software and accessories, then sharing your experience with others? Then join us on the Thoughts Media Review Team! We're looking for individuals who find it fun to test new gear and give their honest opinions about the experience. It's a volunteer role with some great perks. Interested? Then click here for more information.

__________________
iPhone 4, 1.6 GHz Core 2 Duo MacBook Air, Apple TV, 2.66GHz Intel C2D Mac Mini, 1TB TC, Airport Extreme,several iPods and an iPad, 32GB Wi-Fi version.
Follow me
on Twitter.