Androinica Reviews the Droid 3
---
"I've never used the original Droid, and I've only heard good things, so the prospect of using an official Droid was exciting. The first week, however, I couldn't get into the phone right away. I rarely took the Droid 3 with me because it seemed sluggish, but I finally buckled down to figure it out and came away modestly impressed with the third version of one of Motorola and Verizon's most popular brands."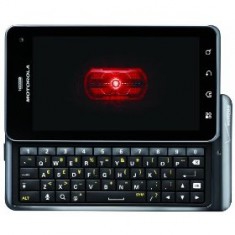 This is a good concise review of the Motorola Droid 3. Though I'm not a fan of physical keyboards on phones in general I really don't like them without dedicated numeric keys. I was glad to see they finally fixed that and added a new top row with numbers. I'm also glad they added MicroHDMI. The fact that it can record 1080p video is a nice touch as well. Also, I was glad they finally bumped the screen up from 3.7" to 4". I think screen size is so critical when you're using your finger, and not a stylus, to push on-screen buttons. I was very surprised that the reviewer found it slow at first. I haven't used it but wouldn't have expected that from any dual-core phone running Gingerbread.
Do you have a Droid 3? If so, what's your favorite feature? How has the performance been? If you don't have a Droid 3 does it have the features you're looking for?