Is Nokia Outing Its First WP7 Device On August 17th?
---
"This is very exciting news (if you're like me where you simply can't wait to have a potential uni-body Windows Phone handset) surrounding Gamescon, which is to be held at Cologne, Germany this month. It seems Nokia has some exciting news with actions and surprises that will make the 17th of August an evening to remember."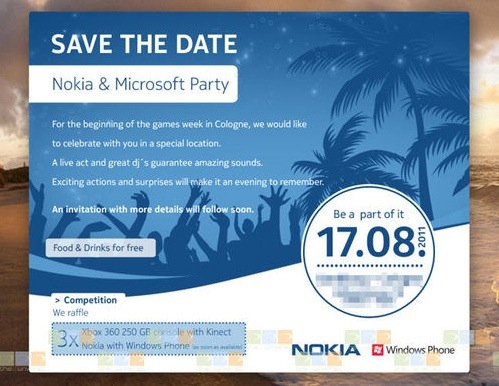 There are lots of people anticipating the release of the first WP7 device from Nokia, and it looks like we might actually have a date to focus on. It seems that date might be August 17th, just two weeks away. The purported evidence for this is hinted at by the raffle notice in the bottom left-hand corner of the announcement. We'll know for sure in a fortnight, but I bet the speculation will heighten now as things seem to be starting to happen for the new Microsoft-Nokia partnership.