Efun Nextbook Next5 Review Bombs
---
"With the marketplace seemingly flooded with a glut of Android tablets, manufacturers are constantly looking for new and different ways to help their products stand out. To that end, the folks over at EFun have chosen to add a digital pen and bundled notepad case to the mix. Included with the company's 7-inch Nextbook Next5 Android tablet, this combo digitizes handwritten notes and transfers them to the tablet, where they are displayed and can be saved as digital files. But does this feature save the $299 Next5 from all its other flaws? Not even close."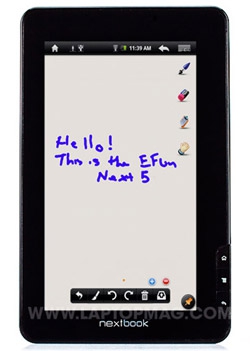 Is this Android tablet worth the $299 price? The answer is NO. One of the main reasons is the processor is a mere 600MHz and performance is sluggish. The build quality lacks, the touchscreen is not accurate, battery life is not as good as other tablets and the sound is terrible. With all these negative qualities this tablet is doomed. A few good things are the tablet comes with a digital pen that works well. It does come with a nice carrying case though. And, it comes with mini-HDMI and a USB 2.0 ports. There are a few other goodies, however, the bottom line is to steer clear of this tablet.
__________________
Not that I am always right, I'm just never wrong.