Olympus Announces PEN E-PL3 and E-PM1 Cameras
---
Next up are the smaller versions of the E-P3. In a way they are Olympus's answer to Sony's tiny NEX cameras; this time the E-PL3 has been given a diet, and is made smaller and lighter. As a result, it loses the nice handgrip found on the E-PL2, along with the built-in flash. That is now an external accessory, like the NEX cameras, but at least it uses a standard hotshoe. That said, it gains a flip LCD, which is a nice bonus. The LCD itself is a standard 3" HVGA affair, so it is not quite as nice as the one on the the E-P3. The rest of the camera reads pretty much like the E-P3 specifications-wise, with the same revamped 12 megapixel sensor, the same fast 35 points AF engine, and the added bonus of having a faster continuous shooting speed of 5.5 FPS compared to the E-P3's 3 FPS. I think Olympus has come up with a nice compromise in both the E-P3 and E-PL3 that satisfies the enthusiasts while attempting to capture the market Sony is going for with the NEX. Price and availability is unknown.
The E-PM1, dubbed the "Mini", is essentially the E-PL3 with fewer buttons and a fixed LCD to get the size down even more. Without having seen either camera in the flesh, I wonder if the sacrifices are worth the space savings, not to mention the need to market and sell another product in the lineup. Again, price and availability are unknown. Photo of the E-PM1 after the break, and check out the link for full specs and more photos!
More coverage: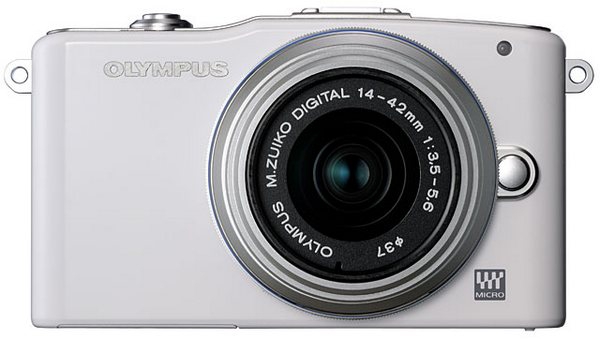 __________________
Baka. Soku. Zan. - The justice behind the dysORDer.