Android Tablets Face Off against the Asus Transformer
---
"Two of the latest low-cost Honeycomb tablets to hit the shelves are the Acer Iconia Tab A500 and the Asus Eee Pad Transformer. The only trouble is, it's almost impossible to tell the two apart (beyond the $50 price difference). At first glance they are pretty similar. Both have a 10.1-inch 1280 x 800 capacitive touchscreen, run NVIDIA's 1GHz dual-core Tegra 2 processor and 1GB of RAM. Each has 16GB or 32GB of internal storage along with a microSD card slot that can handle an additional 32GB. Connectivity includes WiFi b/g/n on both (the A500 adds in 802.11a support) and Bluetooth 2.1+EDR, together with a mini-HDMI port for outputting up to 1080p HD video. 3G versions of each tablet will follow later in the year."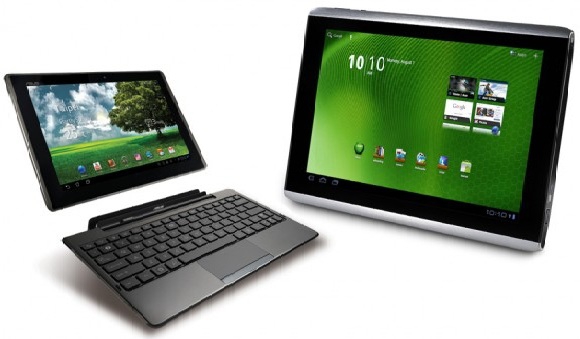 The improvements keep coming in the tablet market. The Asus Transformer looks very impressive. Both the tablets have about the same specifications. The Asus has the biggest glaring standout about 16 hours of battery life with its docking station. To me that is just amazing, as the Asus tablet will last for a business day and still have battery life to spare. The question that comes to mind are both the tablets better than an Apple iPad. From the hardware, I would say yes. When it comes to the software, Android market is just starting for the tablets. Keep in mind this is new technology and it is not cheap. However, if you are looking for that extra battery life (Asus), ports, portability (1.5lbs), and Android O/S these tablets might fit the bill. One other thing is the new laptop are cheaper than these tablets. It is something to keep in mind.
__________________
Not that I am always right, I'm just never wrong.