Will Toshiba Thrive in July?
---
"Toshiba is the latest company to throw its hat into the tablet ring, as its Android-based Thrive slate has been given a release date and pricing. As with many, many others, the Thrive is powered by the new 3.1 version of Android, a.k.a. Honeycomb, and will ship in the U.S. starting July 10. The 10.1-inch tablet is powered by Nvidia's Tegra 2 chip, has a front-facing Webcam and rear-facing 5-megapixel camera, and sports USB, mini-USB, and HDMI ports, along with an SD memory card slot. But its Internet connectivity is Wi-Fi only, which means your mobile access to the Web is limited to hotspots."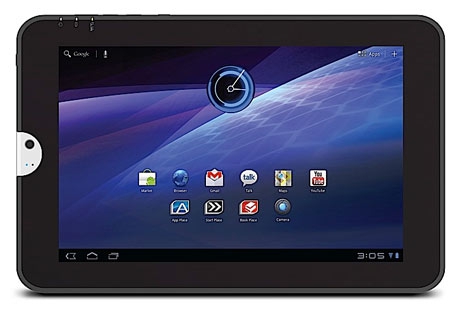 Toshiba may have discovered the right price point to compete in an increasingly-crowded tablet market. At $429, the Thrive is $70 cheaper than the iPad 2, but has only 8GB of storage onboard. However, an SD card slot enables inexpensive upgrades to 16GB and beyond, at a significantly less cost than Toshiba's 16GB ($479) or 32GB ($579) models, with the latter two each undercutting the iPad 2's price by $20. Is this just another Android tablet to further confuse buyers, or will the smaller price tag drive sales?
__________________
"Not everything that can be counted counts, and not everything that counts can be counted." Albert Einstein