How Safe is Your Data With Android?
---
"Start capturing traffic from Android phones, and you'll learn something about security."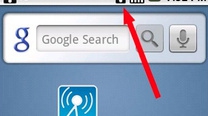 Lifehacker points to an article which highlights some of the security shortcomings of Android. What isn't clear from the article is if this capture was done over Wi-Fi or the cellular network. To my limited knowledge, there isn't an easy way to sniff 3G data, so this should only be a concern if you are on Wi-Fi. In other words, if you're concerned about who may be able to see your data, stick with your wireless data plan when using apps that may compromise your security.