Sprint EVO View 4G Tablet To Launch With Honeycomb... Or Not.
---
"Yesterday, a CNET reader spotted a Web spec on this Sprint page that claimed the forthcoming HTC Evo View 4G would run on the Android 3.0 Honeycomb operating system.Sometime after we posted this story, Sprint's specs changed again, this time citing that the Evo View will carry the 'latest version of Android.'"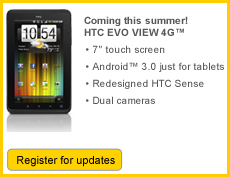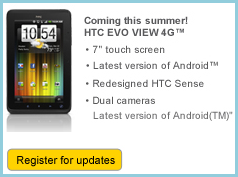 Well, that was exciting news for a few minutes. Looks like someone on Sprint's PR boat jumped the gun a little on the whole "Android 3.0 just for tablets" bit. Android 3.0 may be just for tablets but not for yours quite yet, Sprint. Everyone's pretty sure the HTC Flyer/EVO View 4G will get Honeycomb sooner rather than later but most likely not at launch. Especially if HTC still intends do douse it all in Sense. But you can take this news as someone on the inside knows 3.0 is headed for the EVO View 4G soon. At least we hope. Any of you guys planning on getting the EVO View when it becomes available Honeycomb or not?