Laptop Magazine Reviews the Samsung Series 9
---
"Ever since Steve Jobs pulled the original MacBook Air out of an envelope, Windows laptop makers have been trying to beat the thinnest, lightest notebook in town. We've seen some notable efforts, such as the sexy but underpowered Dell Adamo series and the powerful but unsexy ThinkPad X301. Others have tried, too, but no one has been able to pair an ultra-slim and ergonomically sound design with an uncompromised computing experience. Now Samsung has taken up that challenge with the Series 9, a machine that rivals the latest 13-inch MacBook Air not only on in terms of design but performance. It also has a brighter display than the Air and a backlit keyboard, which you only get on the MacBook Pro. The Series 9 definitely has the air of an Air killer, but is it worth $1,649?"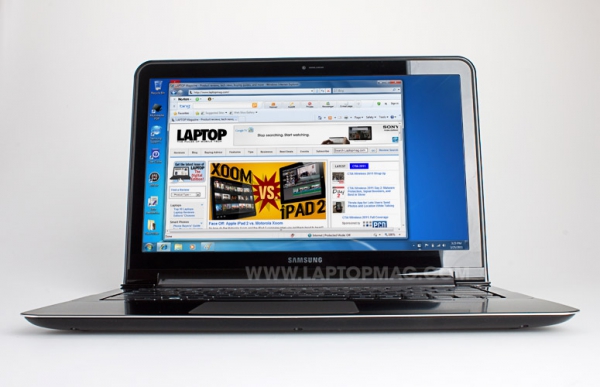 When I first saw the Samsung Series 9 laptop at CES 2011, I was more than a little excited: only weeks before I'd purchased, then returned, the 13 inch Macbook Air. There was a lot that I liked about the Air, but at heart I'm still a Windows guy. If found it kind of clunky to use Windows 7 on the Air, though I might have gotten used to it after a while. The Series 9, however, represented to me the potential of what a top-tier OEM like Samsung could do when they put some real effort in. The Series 9, while not exactly a home run, delivers a top-notch experience...if you can afford the entry price. I was wondering if this was going to be my next laptop, and while I'm tempted, I'm not so sure. I feel like the Sony Vaio Z might be a better choice for me if they release one with a Sandy Bridge Core i7.
Engadget's Joanna Stern has also published a review of the Series 9 - the 8 out of 10 score. She found a lot to like about the laptop, but also balked at the price when you consider that the Air can be had for less. What you don't get, of course, is the Core i5 CPU - yet the Air has a 1440 x 900 screen resolution and the option for a 256 GB SSD, neither of which Samsung offers.
I can't help but notice that both Engadget and Laptop Magazine made the same fatal error: they both claimed that the Series 9 boots faster than the Macbook Air (here's the Laptop Magazine video test). The problem? I believe they're both comparing a fresh-out-of-the-box Samsung Series 9 with a been-in-use-for-months Macbook Air. When I was testing the Macbook Air, it booted up in about 14 seconds. Laptop Mag admitted in a YouTube comment that the Macbook Air used to boot in 15 seconds when they first got it, and I have to think it was the same with the Air that Stern was using. Reviewers should always reference the boot time of the product when they first received it, not after months of use.
I can't help but point out that, based on this, it seems OS X does get crusty and slow down after long-term use...something the Mac die-hards always seem to deny. :-)