Battle of the Blades! Laptop Style!
---
"Apple really upped the ante with the latest 13-inch MacBook Air, slimming down its iconic design even more while adding a higher-res display and a lot more battery life. Just as important, the 13-inch Air ($1,299) integrates flash memory in a way that gives the machine an instant-on feel. Well, now there's a Windows laptop that's ready to take Apple's star ultraportable head on. The Samsung Series 9 ($1,649) features a super-sexy and sturdy aircraft-grade metal chassis, a more powerful processor, backlit keyboard, and gesture-tastic clickpad. Is this machine you've been dreaming of, or is Apple's slim marvel still the champ?"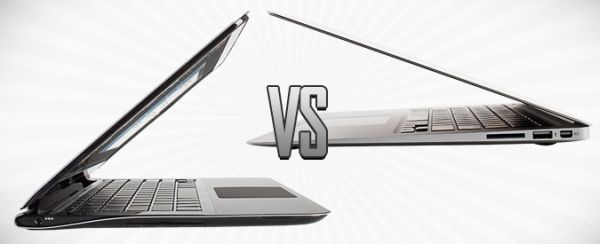 Thin is in. The evolution of the laptop has generally tended towards thinner and lighter models. There are models that fit the desktop replacement motif and those that are on a tight budget. But the real hotness comes to laptops so thin that they can split atoms with their lids. They are so thin that you would swear they only exist in two dimensions. The Air captured a lot of people's attention when it was first released, and other manufacturers have been trying to get the same kind of media darling status that the Air produces. Is the Samsung Series 9 the new ultra-thin to beat, or does the Macbook Air remain king of its domain?