Synology DS1511+: Up To 45TB Of Network Accessible Storage
---
Product Category: Network Attached Storage
Where to Buy: Amazon [Affiliate]
Price: $1,360.80 USD
System Requirements: Gigabit Ethernet for maximum throughput
Specifications: Holds up to 5 3.5" or 2.5" SATA drives with connectivity for two further 5-drive bays. Size: 157mm x 248mm x 233mm. Weight: 4.25kg. LAN: 2 x Gigabit Ethernet. More specifications available.
Pros:
Very fast;
Very flexible;
Very capable.
Cons:
Quite expensive;
Doesn't completely go to sleep if unused.
Summary: A solid unit delivering up to 45TB of network attached storage, with some additional functionality that makes it useful to both home and business user alike.
What? 45TB!?!?
Yes, Synology's top of the range NAS has the ability to hold up to 45TB based on today's hard drives. The main unit has five bays, and two eSATA ports which can be connected to expansion units each with a further five bays, making fifteen drive bays in total. That does, of course, assume no redundancy which may be a bit of a risk with that amount of storage!
Enough about the capacity, though. What about the unit itself? This box isn't just a NAS. Oh no, it provides far more functionality than that!
What You Get in the Box
As delivered, you get the DS1511+ unit, a power cable, two Ethernet cables and some screws. The unit does not come with any drives, leaving you free to populate it with whatever capacity drives you wish. They need to be SATA drives but you can mix and match 3.5" with 2.5" drives. Synology has a list of drive models that they have tested and validated for the unit.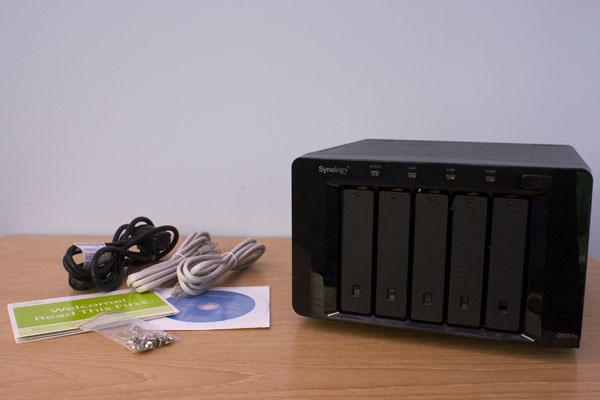 Figure 1: The DS1511+ with everything you need to get you going, except the hard drives.
So the first thing you have to do is fit at least one drive. You can't use the unit without doing so because the operating system - DiskStation Manager (DSM) - is actually stored on each and every drive that the unit has. It is partly for this reason that when you add a drive to a Synology NAS, the first thing that happens is that the drive is formatted. I can see why this happens but it does mean that you cannot simply move drives from another environment into the NAS and continue to use the data on those disks. It would be nice though if you could add a drive with existing data to a working NAS (i.e. one that has already got at least one drive with DSM installed) and then use the NAS to copy the data off the drive onto the existing drives using the speed of the SATA bus rather than over the network.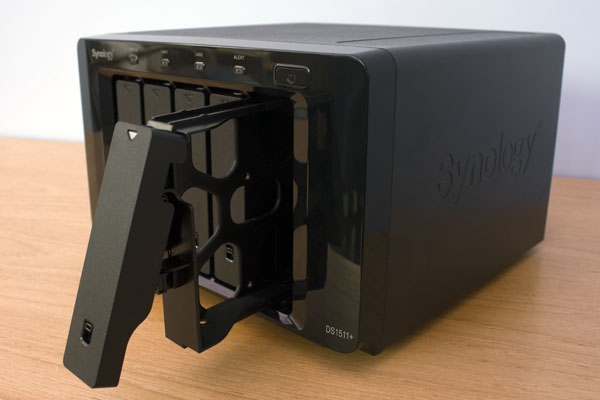 Figure 2: A drive cage for fitting a hard drive.
Fitting a drive is no harder than removing a drive cage (shown in Figure 2), aligning the drive with the screw holes and fitting the screws.
The rear of the unit reveals the two fans used for cooling, the two eSATA ports for the expansion units, two Gigabit Ethernet ports and four USB ports which can be used to connect memory sticks, external drives and printers.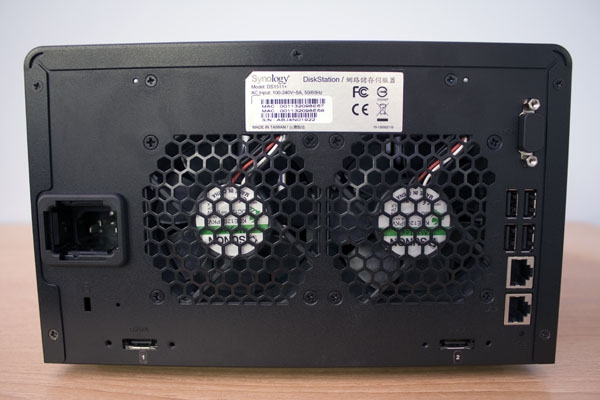 Figure 3: the rear of the unit.
DiskStation Manager
DSM 3.1, which has just been released, provides a web interface that has been designed to look like and be operated like a desktop operating system. The approach that Synology have taken results in a system that is a delight to set up and then manage.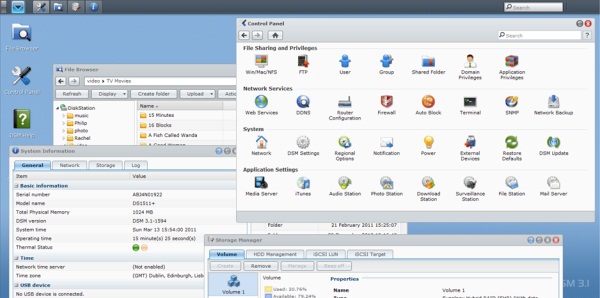 Figure 4: DSM with multiple windows open.
There is a lot of core functionality over and above that of a traditional NAS and some of these will be looked at later. I'm not going to go through every single aspect of DSM but I will focus on what I think are the key points of both DSM and the DS1511+, particularly where digital media is concerned.
In addition to the functionality provided by DSM, you can (subject to memory availability) install applications to further enhance what the box does for you. In effect, this really is a small computer that, amongst other things, is making storage available on a network interface.
The user interface is fully multi-tasking, allowing you to switch between the various windows you might have open within the web browser. Just as an example, I have enabled Audio Station which allows me to play music stored on the NAS or Internet Radio stations. The music is playing back through my laptop's speakers whilst I have the web browser connected to the NAS, but you can equally connect USB speakers to the NAS and have the music play that way. All of this carries on while I use other parts of the NAS interface.
Putting the storage into use can be as simple or as complex as you like. At the simple end, the system will create a single storage volume using all of the available drives and a format called SHR - Synology Hybrid RAID. This allows you to use drives of different sizes. The format supports data protection of one or two disk failures - the choice is yours when you set up the volume.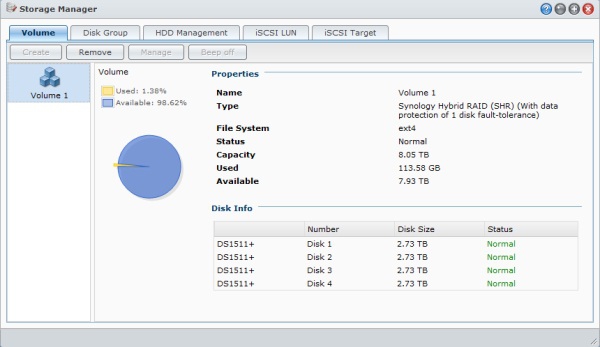 Figure 5: DSM's Storage Manager.
At the complex end, you can create multiple disk groups in different RAID types: SHR, RAID 1, 5, 5+spare, 6, 10, 0 or just a bunch of discs, using all or some of the drives. Within each disk group, you can then create one or more volumes.
Media Across the Network
As a storage server, the DS1511+ is very well positioned. It has two Gigabit Ethernet connections which you can either set up for redundant working or, if you have a network switch that is capable of supporting link aggregation, be joined together to effectively give you 2Gb throughput.
I have not done any precise measurements of the throughput but I have done heavy copying from SATA drives on my media PC to the DS1511+. Using TeraCopy, I copied the contents of four individual drives to a single volume on the DS1511+. The network throughput on the Media PC averaged around 80% of its 1Gbps connection, and TeraCopy averaged around 25MB/s per copy, giving a rough throughput of 100MB/s, or about 800Mbps, which matched up nicely with the network utilization figure.
From a protocol perspective, it is a veritable alphabet soup: CIFS, AFP, FTP, WebDAV, iSCSI, NFS. The system also supports telnet and SSH for management, and SNMP for monitoring.
Looking beyond raw file access, the unit can host up to 30 websites with PHP and MySQL, act as a DLNA media server, an iTunes server and Squeezebox server.
The DLNA functionality is, I think, particularly powerful because the system offers the facility to transcode some file formats if the renderer (e.g. your TV) cannot normally play them. These file formats are FLAC/APE, AAC, OGG and AIFF. The system supports a very wide range of file formats including DVR-MS which makes it useful for Windows Media Center and Xbox users, but unfortunately not the newer WTV file format which means you need to convert the file first before you can see it through DLNA or a remote connection in Windows Media Player. This, of course, does not apply if you are accessing the file directly through CIFS (SMB) or another file protocol.
DSM also provides functionality to act as an iTunes server and, if you have an iPhone or Android phone, you can install an application to allow you to access photos, audio and video from the DS unit directly on your phone rather than through a web browser.
Uses Beyond Media
As I mentioned above, the DS1511+ really is a computer and, as such, you can use it for much more than just storing files.
Supporting over 780 IP cameras from 37 brands, you can use the system to record video using the built-in Surveillance Station functionality. The box comes with a licence to use one IP camera and you can record from up to twenty cameras, but you need to purchase additional licences for them. The system can record manually, continuously, using motion detection or alarms.
DSM also incorporates "Download Station" - functionality to download files using BitTorrent, HTTP, FTP, NZB and eMule, essentially centralising your downloading needs and offloading it from personal computers and the like.
The unit can also send and receive email, supporting SMTP, POP3 and IMAP. Furthermore, you can install a free package from the Synology web site to provide browser-based access to the email.
There is a lot of flexibility around how the unit behaves on the network. It supports DDNS and knows how to configure a wide range of different routers to provide port forwarding to the NAS. Further flexibility is exhibited with the unit's own firewall and support for IPv6 - both across the network it is connected to and also through tunnelling over IPv4.
Backups - as with everything else this system does - are both flexible and powerful. It can act as a backup repository for other Synology systems or servers that use rsync. When backing up the unit, you can back up to a shared folder on the unit, to another Synology unit, to an rsync-compatible server or even to Amazon S3 storage! Once you've decided what you want to back up (which can include additional content stored in the MySQL databases or video from the surveillance cameras) and where to, you then set the schedule which, again, can be as simple or as complicated as you like.
Environmental Considerations
In use, there are a couple of fans that spin when the system is in use. Synology rate the noise level at 25.8dB. This is not a particularly loud level but it is enough that you can hear it as a background noise unless you are, for example, watching a programme with fairly high volume levels.
The system can be configured to hibernate the drives after a given period of inactivity. The choices range from ten minutes to five hours. When the time has been reached, the system essentially turns off the drives (so stops them spinning) and also turns off the fans. This essentially makes the unit quiet - and reduces the power consumption from 68W to 30W - until it is accessed again. There is a small delay when first accessing the unit in this way because the drives have to spin up before they can be used.
It is also possible to configure a schedule of turning the device on and/or off on given days at given times.
If the device is off, it can be turned back on with a Wake On LAN (WOL) signal. I can see this being useful if you have computers that need to use the storage and want to make sure it is available. Rather surprisingly, though, there isn't a method to get the unit to go from hard drive hibernation to power-off after an extended period of inactivity. So, WOL will only be relevant if you either configure the unit to turn itself off at given times or you physically press the off button when you have finished using it.
Conclusions
There are plenty of devices on the market that provide network-attached storage. Some of the newer ones support functionality such as DLNA sharing. There are not many, though, that come close to the flexibility of the DS1511+.
The product may be too expensive for the average home user but, if you are interested in home media, playing videos or audio around the home, or editing high definition video (and thus need a lot of storage), you should definitely give this product serious consideration.
If you don't need as much storage capacity but like the functionality offered by DSM, take a look at some of the smaller units from Synology. They go from one bay up to four with prices to match.
Highly recommended.
Philip Colmer is an IT manager based in Cambridge, UK. You can read his occasional blog postings at pcmusings.wordpress.com or follow him on Twitter: @pcolmer.

Do you enjoy using new hardware, software and accessories, then sharing your experience with others? Then join us on the Thoughts Media Review Team! We're looking for individuals who find it fun to test new gear and give their honest opinions about the experience. It's a volunteer role with some great perks. Interested? Then click here for more information.