Keep an Eye on Anything with the Dropcam Wireless Web Cam
---

Product Category: Wi-Fi Security Camera
Where to Buy: Amazon [Affiliate]
Price: Dropcam Echo (with audio capabilities): $279.00 USD; Dropcam Standard: $199.00 USD
In the Box: Dropcam camera, Ethernet cable, power adapter, mounting hardware
Pros:
Easy to set up;
Camera can be placed anywhere a power outlet is available, Wi-Fi provides connection to Internet;
Dropcam DVR can record video with markers where audio or mtion was detected.
Cons:
Hardware is somewhat expensive.
Summary: Dropcam is a very impressive solution to your security camera needs. The camera is very simple to set-up, and includes a Wi-Fi antenna that allows it to be placed anywhere without worrying about connecting a network cable. The simple web site steps you through setting up your camera, and within minutes, you can be viewing your camera online. Picture and sound quality are great, and the Dropcam DVR will mark where the camera detected motion or audio.
Keeping an Eye on your Castle
Recently, I hired some contractors to do some work in my house. My wife and I both work full time, and sometimes I have to travel for work. Since it was inevitable that workers would be in our house when we weren't, I wanted to find a way to keep an eye on my house. Enter the Dropcam.
Setting up the Dropcam was ridiculously easy. The enclosed instruction card provides the URL to access as well as an activation code for your camera. Simply plug in the camera's power adapter, connect the included Ethernet cable to your wireless router, and access the Dropcam web site.
The web site stepped me through setting up my camera. It was simple enough that even your non-tech-savvy grandmother could complete the steps.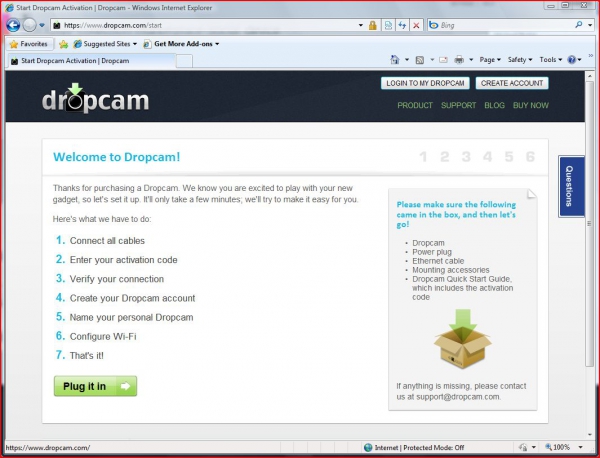 Figure 1: The initial setup screen describes the process. The entire procedure was very simple to accomplish.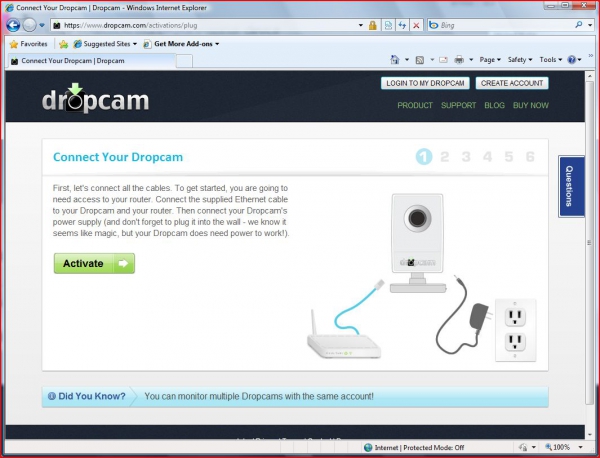 Figure 2: The setup instructions provide detailed diagrams showing how the camera needs to be connected for activation.
Initially, the camera will need to be plugged into your wireless router for the activation to occur. Once the camera is powered up and connected to the router, it can be activated.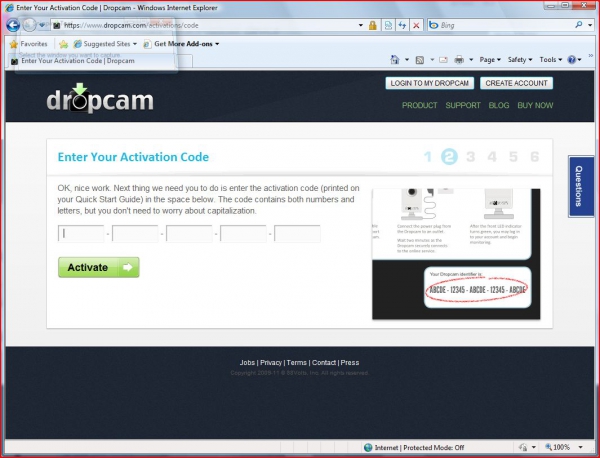 Figure 3: Simply enter the provided activation code to enable the camera.
The included set up card will have a unique activation code printed on it. I entered that code into the web site, and almost immediately the camera was operational.
Once activated, you can remove the Ethernet cable, and the camera will now stream video and audio over your wireless network, then to the Dropcam web site.
Dropcam provides mounting hardware to allow you mount your camera on a wall or ceiling.
Viewing Your Dropcam
There are three Dropcam plans available. The free "Basic" plan allows you to view your Dropcam, but provides no recording. The $8.95/month "Plus" plan records up to 7 days, and allows you to watch you camera live, or to rewind to view past events. The $24.95/month "Pro" plan provides up to 30 days of recording. Dropcam will provide markers showing where the camera detected either motion or sound.
Simply log into your account on the Dropcam web site, and within seconds you are viewing a live feed from your camera.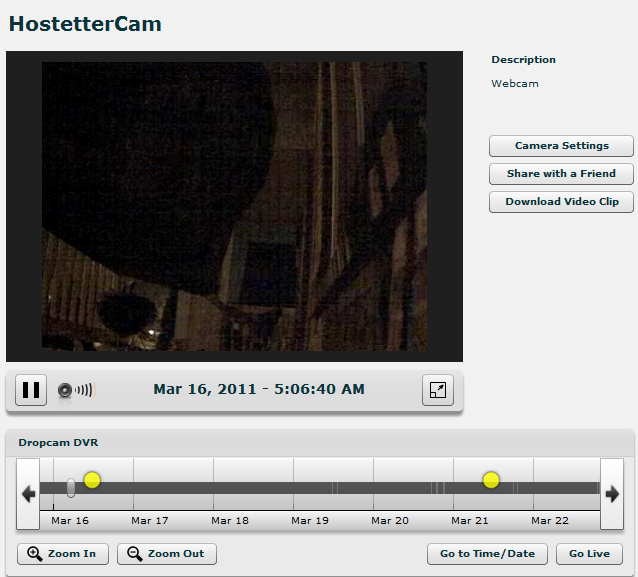 Figure 4: Yellow dots indicate motion or sound detection. The paid Dropcam accounts provide recording, allowing you to review your camera video.
By default, the camera's lens is illuminated by a green LED ring, indicating that the camera is on line. This light can be disabled, making the camera harder to notice.
Other settings available include the ability to send email notifications when motion or sound is detected. This seems like a must-have feature, but honestly, the emails became an annoying nuisance. Of course, this was because my camera was located on my front porch, aimed at a porch swing. Any time the wind blew the swing, or a car passed by, we would get an email. The feature worked great, but not for where we had placed the camera.
While those workers were coming into my house, I placed the camera in my dining room, aimed toward my front door. I was able to know when they were in my house, and could see that they were keeping busy.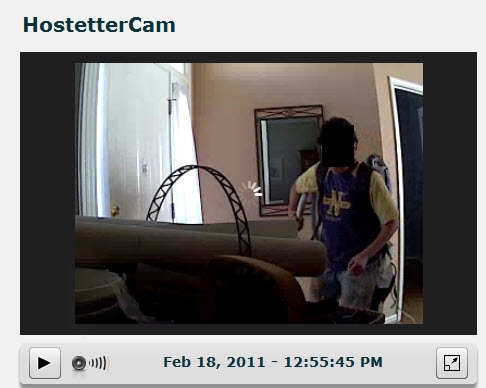 Figure 5: Dropcam gave me a perfect view of the workers that were in my house when I wasn't.
Watching Dropcam on the Go
Dropcam also offers viewing apps for iPhone and Android phones. I tested the iPhone app and found the picture quality to be excellent, even when connected to AT&T's 3G network. The iPhone app also shows a list of "events" where motion or sound was detected.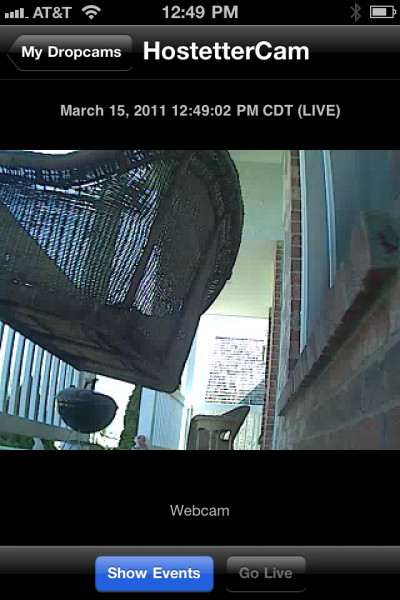 Figure 6: The Dropcam iPhone app was very simple to use, and provides both a live view as well as a list of "events," showing where motion or sound was detected.
Of course, multiple cameras may be added to your account, allowing you to choose which camera to view.
Conclusion
The Dropcam is a very simple to use web camera that does not require a connection to a computer. It connects to the Internet using your wireless network, and can be watched anywhere using the Dropcam web site, iPhone or Android viewer. Set up is simple, and with a paid plan, recorded video can be watched and detected motion and sound are marked on the recording. Event notifications can be also be configured to send email when motion or sound are detected. The video quality is excellent, and the ease of use is off the charts. The Dropcam provides a great solution if you want to keep an eye on your house, your nursery, your business, your kids...or even contractors who are working in your home.
Ron Hostetter is a software sales engineer by day, a gadget lover by night. He has worked in the IT field for over 20 years and loves reading about and playing with technology. He lives in Kansas City, Missouri with his lovely wife, his son and daughter, and their two dogs. He enjoys playing guitar in his band 71 South and watching the Kansas City Royals.

Do you enjoy using new hardware, software and accessories, then sharing your experience with others? Then join us on the Thoughts Media Review Team! We're looking for individuals who find it fun to test new gear and give their honest opinions about the experience. It's a volunteer role with some great perks. Interested? Then click here for more information.