Design Skype's Mac Client Interface and Win a Prize
---
"Skype has launched a design contest for the interface on its Mac client. "Create the new Skype for Mac chat style" is aimed at tapping into the design power inherent in the Mac community, and the company is offering prizes that include a MacBook Air, several iPad 2s, and some Apple TVs."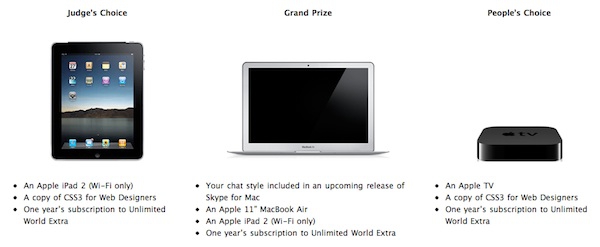 The countdown for phase one is on and in 14 days you can submit your entries. If you are curious about how much time you have, just go to the page Skype set up for just that purpose! More info can be found at the Skype contest page so best get with it, you have less than 15 days!
__________________
iPhone 4, 1.6 GHz Core 2 Duo MacBook Air, Apple TV, 2.66GHz Intel C2D Mac Mini, 1TB TC, Airport Extreme,several iPods and an iPad, 32GB Wi-Fi version.
Follow me
on Twitter.