Verizon HTC Trophy Offered To Microsoft Employees Take Two
---
"Back in November, we covered the confirmation of the HTC Trophy coming to Verizon early this year... Now we are seeing offers on the Verizon website that details an offer for Microsoft Employees that expires April 1, 2011."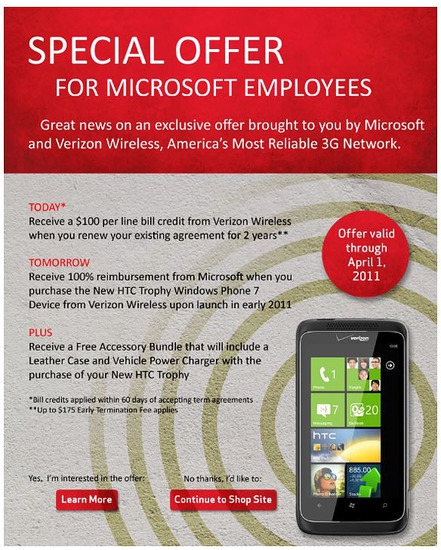 Last November Microsoft employees were offered the opportunity to pre-order a HTC Trophy on the Verizon network for an early 2011 release with the offer expiring on December 31, 2010. This led to speculations that the Trophy would be released in January. Well January came and went without a sign of the phone and it was long forgotten.
Verizon has now renewed the offer to Microsoft employees for the opportunity to pre-order the Trophy and this time, the offer is valid through April 1, 2011. It looks like soon all four U.S. carriers will have WP7 offerings.