Contributing Editor
Join Date: Jun 2010
Posts: 118

MSN Onit: A Lifestyle App Focused On Men
---
"MSN Onit, a new MSN lifestyle app tailored just for men, is now in Marketplace (download it now). Built with guys in mind, the app combines the best of men's lifestyle content from MSN and leading outlets like Esquire, Men's Health and TheSmokingJacket.com, assembling it alongside the power and convenience of Bing."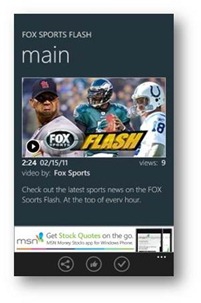 I was intrigued when I learned about this app. What content would they be focusing on men specifically? Well, the answer is the following list:
Cars (regular updates from MSN Autos)
Daily Wisdom and How To (each day, a new bit of life advice, or a morsel of trivia, on subjects ranging from science to history to sex)
Eat & Drink and Local Events (how to navigate that restaurant menu, what to pick up at the grocery store, what to order at the bar: the best advice from Eat this, Not That!, Esquire, Men's Health, and Delish on MSN)
Entertainment, Music and Movies (content from sites such as MSN's Last Night on TV, MSN's Parallel Universe, Wonderwall on MSN, TheSmokingJacket.com, the MSN Music blog and MSN Movies, which is directly integrated with movietickets.com)
Health & Fitness and Sports (tips on getting in shape, staying in shape, or amping up your workout from Bicycling, Fitbie on MSN, Men's Health, Runners World, Fox Sports Flash and Fox Sports' Lunch with Benefits)
Tech & Gadgets and Dollars & Sense (focused on tech gear and technology from MSNBC.com Technolog, Esquire, LIFE.com, Men's Health, Popular Mechanics, TheSmokingJacket.com. and MSN Money)
Style and Beautiful Women (content from Esquire, Men's Health, TheSmokingJacket.com, Wonderwall and LIFE.com)
The app includes integration with your e-mail, as well as facebook and Bing. If this is the sort of content you traditionally browse on your desktop, then a mobile packaging may be very convenient. Download it now from the Marketplace, and then let us know in the comments what you think it.