HTC Thunderbolt Coming March 17th?
---
"Hello, Imran Shahid. You appear to work for HTC as a regional sales manager and have just tweeted some very sweet words. March 17 as a launch day for the Thunderbolt?"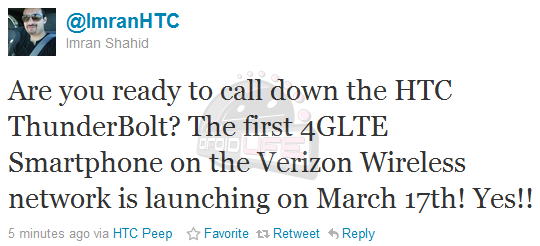 It looks like the wait may finally be over if this tweet from Imran Shahid, an HTC regional sales manage, is any indication. Mr. Shahid's Twitter account has since been deleted but not before some keen folks out there grabbed this screen shot. I guess we'll find out tomorrow if there is any truth to this. It sure will be nice to finally have an LTE phone out there. Anyone hitting up their local Verizon store tomorrow?