Amazon (Briefly) Posts Apps and Prices
---
"This morning, just for funzies, I entered http://www.amazon.com/apps in the address bar and found myself on a site with a horizontal slider. 48 apps were shown there. Clicking on one of them doesn't lead anywhere but the Amazon.com home page. It doesn't matter, if you try it on a desktop or mobile browsers."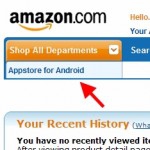 Well, now, isn't this interesting. Just a day after Rovio announces that Angry Birds Rio is coming exclusively to the Amazon Appstore and then reveals a date of March 22nd for the release of the app, Amazon itself outs a list of apps on their own site, complete with pricing. Frank over at AndroidNews.de has put together a list of the apps he saw, along with their Amazon and Market pricing and, if these prices hold true, it looks like a few bargains may be possible, with most prices being right in line with current Market ones. Sadly the page no longer appears to be live, so we need to wait at least a little longer.
Fuel for the fire for those eagerly awaiting the launch of Amazon's Appstore.