Sweet Home! Makes Automatic Backups of Photos and Videos Easy
---
"The free Sweet Home! app uploads photos and videos taken with the camera of your Android device to a shared network location of your choice. It can do this automatically-as soon as you get home and connect to your wi-fi network-or manually if you prefer."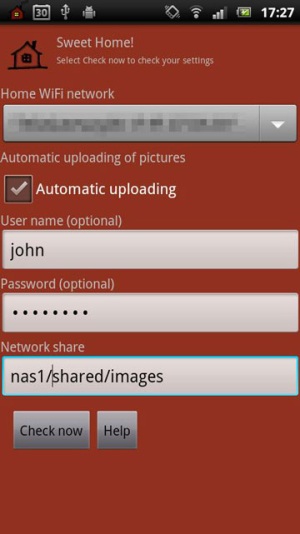 Here is a cool and useful new app for those who take lots of pictures and videos with your phone. If you've ever used an Eye-Fi enabled card with your camera your familiar with the basic concept; when your device connects to a pre-determined wireless network it automatically uploads the photos and videos to a location of your choosing. Unlike Eye-Fi, this currently only works with a local network share, so no auto-uploading to Picasa, Flickr, or Facebook, but seeing as this is currently an early release, maybe we could see some of those features in the future. Either way, the ability to automatically, wirelessly back up your photos and videos is great.
Set up is dead simple, as you can see from the screen-shot above, and it works as advertised. Quick, simple, and a great concept. Let us know at the "Discuss" link if you have tried the app and what you think about it.