Olympus E-PL2 Reviewed
---
"The Olympus E-PL2 ($599 with lens) is a consumer-friendly interchangeable lens camera that uses the Micro Four Thirds standard. It's the successor the to E-PL1, and has a fairly modest list of improvements. They include a more ergonomic design, a larger/sharper LCD, refinements to the user interface, and a new kit lens. The E-PL2 retains the same sensor, image processor, movie mode, and overall design of the E-PL1."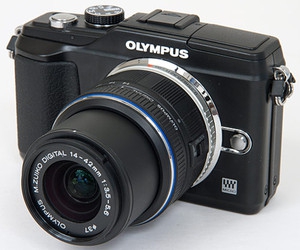 Digital Camera Resource Page has a review of the Olympus E-PL2, and it is mostly a competent little camera. The most interesting thing about the E-PL2 to me is the Bluetooth PENPAL accessory, and there is a paragraph or two talking about it. The functionality is rather basic as all it does it transfer the image over, so it still does not quite bridge the ease of use and easy sharing of photos that make camera phones so popular nowadays. I am not sure if another stand-alone app to help achieve that functionality is needed though; perhaps a bridging app of some kind?
__________________
Baka. Soku. Zan. - The justice behind the dysORDer.