Toss That Mouse Pad: The Logitech Performance Mouse MX Reviewed
---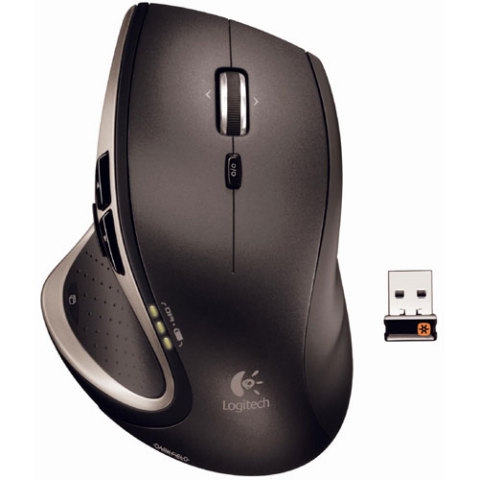 Product Category: Wireless/USB Mouse
Where to Buy: Amazon (affiliate link)
Price: $74.93 USD
System Requirements: Windows® XP and Later, Mac OS® X 10.4 and later, with USB port.
Specifications: 110 V AC and USB charging system
Pros:
Nice and comfortable feel, rubberized grip;

Great battery life;

Logitech® Unifying receiver.
Cons:
Plugging in the charging cable is a little tricky;

Pressing forward and back buttons;

Side to side movement of scroll wheel.
Summary: The Logitech Performance MX has a nice, comfortable feel. It is very responsive and the battery lasts all day for me, which is roughly 12 hours of continuous use - I plug it in to charge every night. For me it has worked on wood, glass, fabric, and laminated desktops. The Logitech® Unifying receiver was plugged in and the mouse connected right away with no problems using Windows 7.
I Love My New Mouse
As I stated before, the Logitech Performance MX works on many surfaces due to the Darkfield Laser Tracking Technology. Apparently, Darkfield Technology reads the individual dust particles to function properly. Needless to say, I'm not someone who cleans my desk every few minutes to keep it free of dust, so it works just fine. All of you out there with glass top desks can throw away that mouse pad that you've been using all these years!
Basic Use
To start with, the mouse is for right-handed use. There are four task buttons: the app switcher, the forward and back buttons and the zoom button. The app switcher shows you all of your open windows on one screen when pressed. The back button allows you to step backwards through your previous views. The forward button moves you to subsequent views in the application that you're using. The zoom button opens an icon and you'll use the scroll wheel to zoom in and out. There's a cable with a standard USB connector on one end and a proprietary connector on the other end for the mouse. The USB connector can be plugged into a computer USB port for charging the mouse or just to use it as a cable connected mouse. It comes with a 120 V AC USB charging adapter. You'll also get a USB port extender to plug the Logitech® Unifying receiver into if needed to move the receiver closer to the desktop. There's also a very nice vinyl pouch to store everything in which comes with the Logitech Performance MX.
Does It Work?
About two montths ago, I switched away from the Logitech MX1000 to use the new Logitech Performance MX. The fit in my hand is about the same - comfortable. There's no more running out of battery juice and having to switch to another mouse or stopping until it charges back up. If the batteries run low, I can just plug it into the charging cable and keep going. Alternately, if you want just plug the cable into your USB port and use it as a cabled mouse, that's an option too. There's no down time. To be honest, I do not use the forward and back buttons very much, but they're there if you need them.
The zoom feature I'll use sometimes to enlarge pages for a better reading view. As far as the scroll wheel, I use it all the time. There are two settings for the scroll wheel: one is locked, and the other is free wheeling. I tend to leave mine in the free wheel position. On large websites it's a matter of flipping the wheel to scroll through many lines of text to get to the bottom or the opposite way to get back to the top. You can lock the wheel to where it will only scroll with single movements of your finger. The app switcher button is nice if you have several windows of applications open. You'll hit the app switch and select the window/app you want and click on it - a very nice feature to have. Let's not forget about the Setpoint Software that comes with the Logitech Performance MX. You'll be able to change some settings and features for each of the buttons and the scroll wheel. You can adjust the scroll settings, and speed. There's a battery power indicator, and game detection setting. I like the default settings for all the buttons as they are.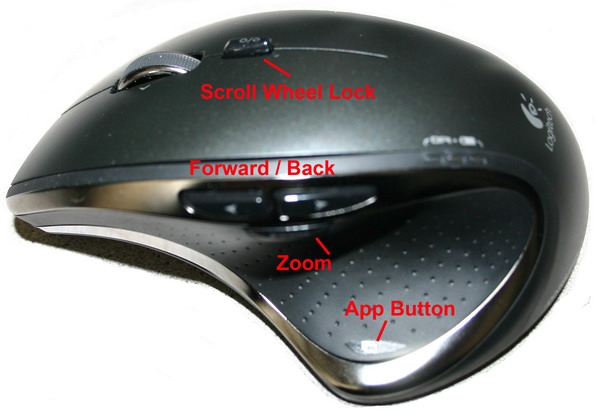 Figure 1: The location of the buttons.
Can it be Improved?
Just like any product or the person doing the review, you can find things that could be improved. When I plugged the cable into the mouse I had a hard time trying to get it lined up. I thought at first something was bent that would not allow the plug to be inserted. I moved it from side to side and then up and down trying to align the connection. The cable does not plug into the mouse at 180 degrees or level angle to the mouse. The receptacle is at a slight upward angle of maybe 5 degrees. Even though I know it now, I still fiddle around with the cable when trying to plug it in for recharging overnight. The left and right mouse buttons are sensitive. When trying to push the forward and back buttons I'll also hit the right mouse button at the same time and a window opens. Maybe this happens because my wrist is laying flat on the desk when holding the mouse and I'm not holding it properly like it was designed.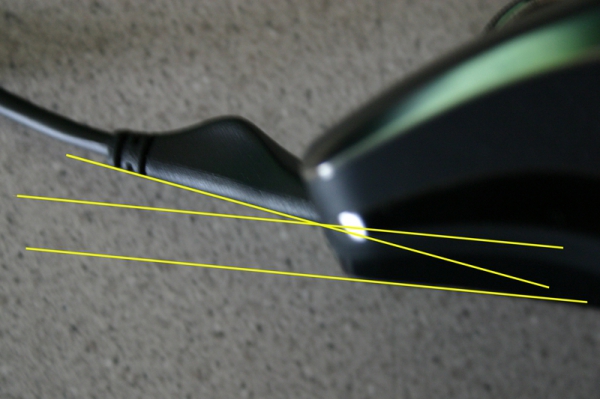 Figure 2: Plug angle.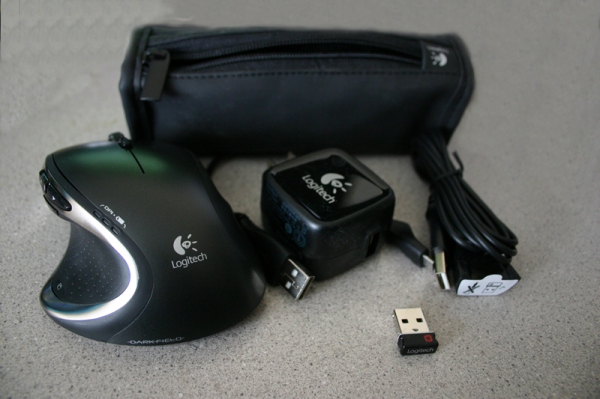 Figure 3: Items in kit.
Conclusions
I enjoy using the Logitech Performance MX. Would I recommend you using it? I find that when I'm holding a mouse in my hand, I'm looking for something that fits, and feels nice in my hand. This mouse is not too small for me. The rubberized sides are nice to hold and do not slip when my hands get sweaty when under stress to get the job done. I love the free wheeling scroll wheel when moving through long websites or spreadsheets. I love the ability to use it all day without worry of running out of battery power. When it gets low, I can just plug it in and keep going. By the way, I've never had to do that. I'm online for about 12 to 14 hours a day, using the mouse more than the keyboard and have never run the battery power down to where I couldn't use the mouse. To answer the question above, yes I'd recommend the Logitech Performance MX. Try it and see how it feels at your local electronics store.
Frank Cox is a member of the Thoughts Media review team and operates www.69elks.com website, a site dedicated to the class of 1969 Centerville High School, Centerville, Ohio. Being a retired Assistant Fire Chief/ Fire Prevention, I'm looking for something to do in my spare time. Having worked in a fast paced environment for the past 30 years, it is hard to stop and do nothing. Working at home on the computer and evaluating new items is something I like to do. Trying to keep up with technology and using new products has been one of the things my wife doesn't understand, and why I spend all that money on them is the other.

Do you enjoy using new hardware, software and accessories, then sharing your experience with others? Then join us on the Thoughts Media Review Team! We're looking for individuals who find it fun to test new gear and give their honest opinions about the experience. It's a volunteer role with some great perks. Interested? Then click here for more information.